Vid tour through I-680 flood damage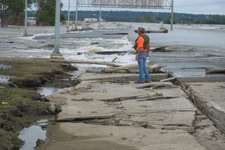 As Missouri River floodwaters receded from flood stage this month after a long summer of high water, Iowa DOT officials finally got a look at I-680 at the I-29 interchange, and the damage done to both roadways is just stunning (pictured courtesy of Iowa DOT; more info on detours/outlook available in our news piece here). The Omaha World-Herald ran a short tour through the devastation you can watch via this link — headline: "I-680 is obliterated…gone."
Also, our thoughts are with communities in Vermont and elsewhere through the Northeast after Hurricane Irene's landing over the weekend. If you were there or have helped in any relief efforts, please get in touch: tdills [at] rrpub [dot] com.
Talking trucking history with Big Al
You may well recall the program Big Al Weekley and Queen B put together running through Overdrive's top ten trucking songs — and more. Well, this week they've put together another in the series of Dispatch Me Home Radio programs that includes, well, me. I talked with Big Al about a little trucking history on the occasion of Overdrive's 50th-anniversary issue upcoming. Listen to the program anytime through Sunday via this link.
New electrification site announced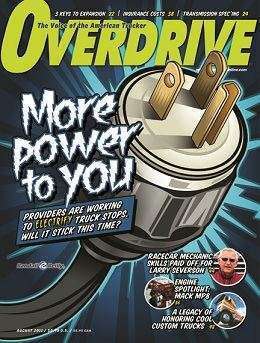 Don't miss fellow Overdrive Senior Editor Max Kvidera with Allen & Donna Smith on the Truth About Trucking Live online radio program tonight. Two days ago, just after I wrote about the revival of interest in truckstop parking space electrification they'll be discussing, the Cascade Sierra Solutions organization announced yet another electrified truckstop, this one in Nebraska. Shoemaker's Travel Center in Lincoln, family owned and operated for more than 50 years, has a new location at milemaker 395 on I-80 and will host a Sept. 9 grand-opening event showcasing the stop and its 24 electrified parking spaces put in by Shorepower, part of the STEP program I mentioned in my previous post.
Letter to Capitol Hill, redux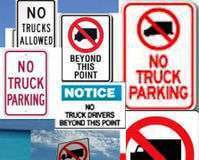 And, finally, as discussed in comments to my post about the Keys Truckers' "Letter to Capitol Hill" a couple weeks back, the Keys have posted the letter to allow you to append your electronic signature as a big thumbs-up to the modest proposal, an elaborate effort to make lawmakers aware of the burden their actions put on the American driver. Check it out here.