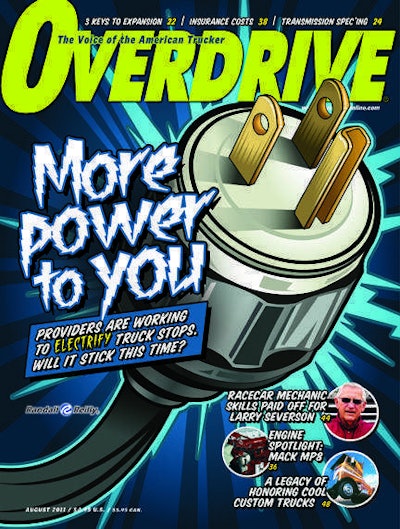 As fuel prices spiked in 2007-08, a large majority of truckers' anti-idling interest was focused on dedicated auxiliary power units, which market expanded dramatically with a profusion of new manufacturers. This time around, with the economy still somewhat shaky, owner-operator and fleet interest in up-front investment in full-function APU technology may be taking a back seat infrastructure improvements and use of electrified truckstop parking space services when needed. For operators who don't already have APUs, these new spaces will be a big boon to on-road comfort in the inclement seasons.
Electric hookups and HVAC services tied to truck stop parking spaces are seeing an upswing in recent months. If you missed Overdrive's August cover story by my colleague Max Kvidera on the subject of TSE, definitely give it a read. Kvidera will join Allen and Donna Smith on Truth About Trucking Live Thursday night for an elaboration of Kvidera's piece in light of several new installations that have come online in recent weeks across the nation.
Among them are the Baker Truck Corral on I-84 in Baker City, Ore., where 24 electrified spots to power inverters and on-board auxiliary HVAC equipment recently went live, made possible as part of a partially federally funded program in the Shorepower Truck Electrification Project, currently with eight sites online mostly in the Pacific Northwest. Another is the Eco Truck Stop on I-40 near Crossville, Tenn., where AireDock in July unveiled 50 units similar to the IdleAire (recently renamed "IdleAir") systems you'll remember. The reconstituted IdleAir itself lists 23 active locations at the company's website.
Tune in Thursday to find out more. The show is scheduled for 8 p.m. Eastern, and the call-in number is (347) 826-9170. If you're online and just want to listen, here's the main link for the show.
Related stories:
Plugged In
Shorepower seeks truck stops for electrification
Truck stop electrification expands at several locations