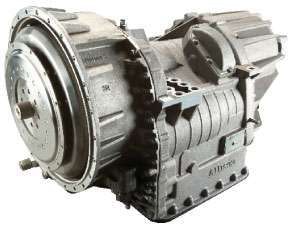 Automatic transmission has 'blended architecture'
Allison Transmission has introduced a 10-speed, fully-automatic, twin-countershaft, range-type transmission: the TC10 TS.
The unit will be marketed for use in daycabs, truckload, regional haul, less-than-truckload, liquid transport, equipment transport and construction,
Todd Dygert, NAFTA-MSS product specialist for the TC10, described the unit as having "blended architecture," combining characteristics of the twin-countershaft mechanical truck transmission with those of the maker's existing automatics.
The transmission will have a torque converter with lockup clutch in place of a standard, dry clutch at front. But it will have helical gears integrated with a twin-countershaft layout for five forward speeds and the reverse gears in the main box, as well as a two-speed planetary range box at the rear.
Also, the torque converter will be used only for launch, locking up before the shift to second gear under nearly all circumstances, to save fuel.
Production will start Oct. 1, 2012, and will expand in 2013. Prototypes are being tested in fleet operations. Final warranty terms are still to be determined, but a 5-year, 750,000- mile warranty is the target.
ALLISON TRANSMISSION, allisontransmissions.com
Cat, Navistar team up to build cabover
A cabover-engine vocational truck will soon be produced and sold globally in the ongoing collaboration between Caterpillar Inc. and Navistar International Corp., the companies announced.
Cat and Navistar also have an agreement to produce Caterpillar heavy-duty vocational trucks for North America. Customer deliveries have started for the Cat CT660 vocational truck, which was unveiled in March.
Under terms of this new relationship, NC2, the company created and formerly co-owned by both manufacturers, will become a wholly-owned subsidiary of Navistar. Also, through a new brand licensing agreement, both International and Caterpillar branded trucks will continue to be distributed through both International and Caterpillar dealers outside of the United States.
CATERPILLAR, caterpillar.com
NAVISTAR, navistar.com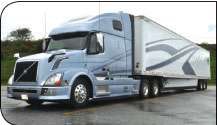 XE13 equips VN 670 for smooth ride
In September, I took an XE13-equipped Volvo VN 670 on a six-hour test, highlighted by a climb up Fancy Gap, a 2,000-foot mountain on I-77 near the North Carolina-Virginia border.
For most of the climb, I was able to hang out in the middle lane, passing other, lugging rigs.
Because the XE13's drivetrain is fully integrated, each system knows precisely what demands are being placed on each component. This information is updated thousands of times per second. The light-speed communication network allows the tractor's I-Shift transmission to direct the engine to respond to its needs, instead of the other way around.
The result is a smooth ride up and down a mountain in crowded road conditions, while the tractor pulls 77,000 pounds. The system selected 10th gear early in the Fancy Gap climb and held a steady 53 mph to the summit without strain.
The XE13, a combination of Volvo's I-Shift automated-manual transmission and a D13 Volvo engine with modified software, allows the engine to cruise at 1150 rpm at 65 mph.
The package is rated for up to 80,000 pounds and includes a 425-hp, 1750 lb.-ft.-torque D13. The Volvo I-Shift overdrive transmission comes with a 0.78:1 ratio and a software package that facilitates communication between the integrated powertrain components.
– Jack Roberts
VOLVO, volvotrucks.com
Caterpillar truck goes into production
Caterpillar has begun production of its CT660 vocational truck for the North American market and is shipping units to customers, the company announced.
The truck was developed using the Navistar WorkStar vocational truck as a starting point. Cat trucks will offer only one engine: Navistar's 2010 EGR-only family of heavy-duty engines, painted yellow and branded as Cat CT11 and CT13. The two companies jointly developed the high-pressure fuel injection system that helps enable Navistar engines to meet EPA 2010 emissions regulations without use of selective catalytic reduction aftertreatment.
During a brief test drive, accleration with the 475 horse CT13 under the hood was peppy and the CX31 provided smooth shifts right on cue. Equally impressive are the truck's wheel cuts and turning radius.
Cat will offer the CT660 now with either an 11-liter or 13-liter engine, with horsepower ratings ranging from 330 to 475. A 15-liter option is planned with ratings as high as 550-hp. Cat's Gary Blood says the 475-hp CT13 mated with Cat's CX31 automated manual transmission delivers power on par with a 15-liter.
– Jack Roberts
CATERPILLAR, cat.com
Independent sleeper air conditioner
A newer version of a battery-powered auxiliary air-conditioning system is now available from Red Dot. The Sleeping Well Arctic 2000 Plus system operates with the truck's engine off, burning no fuel and producing no emissions. It has an all-12-volt system with twin compressors, upgraded system diagnostics and a wireless remote to control settings. It also has a shore power option and will fit in most sleepers.
RED DOT, rdac.com

Sleeper sheets with storage
Custom bed sheets for truck sleepers are designed to fit nearly all sizes. The sheet set comes with one fitted sheet, one flat sheet and two pillowcases. The fitted sheet has two built-in pockets for nighttime storage. The sheets are made of 100 percent brushed micro fiber, are machine washable and do not require ironing. The five sizes available fit beds up to 7.5 inches thick.
JAKE'S CAB SOLUTIONS,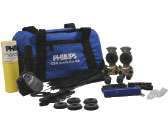 CSA repair kit
The CSA Qwik-Fix Kit holds common repair parts in a carrying bag. The kit includes 12 parts to fix most electrical problems. The bag can be customized for drivers to include parts regularly needing replacement.
PHILLIPS, phillipsind.com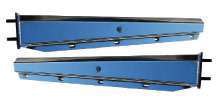 Spring-loaded mud flap hangers
New lightweight spring-loaded mud flap hangers with Smart A17 Technology are available from Betts Spring. The heavy-duty flaps have an open-wound coil spring design and are available in straight arm, tapered arm and angle down forms.
BETTS SPRING, bettsspring.com

High-output flashlights
The Focusing LED Flashlight has a focus-lock system, one-handed slide focus and a 426-foot beam distance. The Inspection Flashlight is a compact pocket light that features an anti-roll design and a 200-foot beam distance. The Hi-Power Focusing Flashlight also has a one-handed slide focusing and focus-lock system with an anti-roll design and a dual-level light output that reaches up to 700 feet. Each flashlight has about three hours estimated battery life and uses either AA or AAA batteries.
SNAP-ON, snapon.com,
(877) 762-7664
Peterbilt updates refuse model
Peterbilt remodeled its Model 320 truck with design intended to improve maneuverability, increase utility and enhance driver comfort. The new version has two steering gear options, a light-weight battery box, an ergonomic seat and tri-plane mirrors.
PETERBILT, peterbilt.com