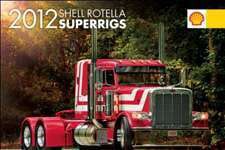 The latest edition of Shell Rotella's SuperRig calendar, featuring 12 working trucks, is available for free with purchase of a minimum 10-gallon heavy duty oil change of Shell Rotella T Triple Protection, Shell Rotella T5 or Shell Rotella T6 from Nov. 1-30 at participating service facilities.
Also included is a dashboard mini calendar.
The 2012 calendar includes many winners from this year's Shell Rotella SuperRig contest that took place at the Kenly 95 Petro in Kenly, N.C. The cover and May feature the 2011 Peterbilt 389 of Joe Rondeau and October features the 2003 Peterbilt 379 of "Best in Show" winner Jerry Heiderscheit.
The 2012 Shell Rotella SuperRig calendar will be available for order at www.Rotella.com beginning Dec. 1 for $10 plus shipping and handling.