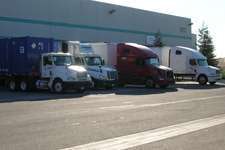 TransCore Nov. 14 announced its North American Freight Index climbed 39 percent last month compared with October 2010.
This was the highest year-over-year volume since the aftermath of Hurricane Katrina that drove spot market demand to record levels in 2005. Compared with September, spot market freight volume slipped 3.7 percent, reflecting normal seasonality.
Truckload freight rates also increased year-over-year on the spot market in October and showed mixed results among equipment types compared with September. For dry vans, rates rose 6.3 percent compared with October 2010 and increased 1.5 percent compared with September.
National average rates for flatbeds increased 12 percent year-over-year and remained stable compared with September. Refrigerated van rates rose 2.7 percent year-over-year and dropped by 2.5 percent versus September.
TransCore's monthly North American Freight Index reflects spot market freight availability on the company's network of load boards. Rate information is provided by TransCore's Truckload Rate Index and reflects linehaul rates, excluding fuel surcharge.