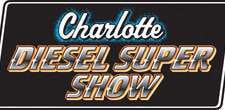 The 2012 Charlotte Diesel Super Show will roll out Friday and Saturday, Oct. 5-6, at the zMax Dragway/Charlotte Motor Speedway Complex in Concord, N.C.
Attendees can become participants or spectators during a weekend offering truck drag races, the Custom Rigs' Pride & Polish truck beauty contest, industry exhibitors and the Hooter's wing eating contest. Trophies and cash awards will be given to the winners Oct. 5.
Additionally, attendees will be able to do a test drive down the zMAX Dragway, watch jet funny cars and see entertainment.
Last October, the show attracted nearly 10,000 trucking industry visitors.
Tickets will be offered beginning in March and can be purchased through the Charlotte Motor Speedway, Ticketmaster or on-site. Admission is $20 for an adult two-day pass and $10 for children 7-16. Children 6 and younger can attend for free. All events, exhibits, entertainment and parking are included in the purchase price.