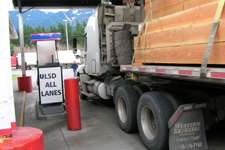 For the seventh straight week and ninth in the last 10 weeks, the national average diesel price increased in the latest week, according to the U.S. Department of Energy's Energy Information. The average price rose 2.9 cents to $4.123.
The current price is the highest since May 2 when it was $4.124 a gallon. The price has risen 27.5 cents over the last seven weeks. A year ago the price was 21.5 cents higher.
In the latest period, the biggest increase was in the Rocky Mountain area, where the price jumped 8.3 cents to $4.069. In Washington and Oregon, the average gained 7.3 cents to $4.348. The only region to report a lower price was New England, which dipped 0.3-cent to $4.25. All regions are now above $4.
The record diesel price was $4.764 in July 2008.
For diesel price information, click here.