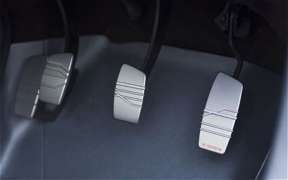 The National Highway Traffic Safety Administration on Thursday, April 12, proposed to update existing safety standards to ensure drivers can better stop a vehicle in the event both the brake and accelerator pedals are depressed at the same time. NHTSA said research indicates a Brake-Throttle Override requirement will help reduce the risks of high-speed unintended acceleration and prevent crashes involving a stuck or trapped accelerator pedal by allowing the driver to maintain control through normal application of the vehicle's brakes.
"America's drivers should feel confident that anytime they get behind the wheel they can easily maintain control of their vehicles, especially in the event of an emergency," said U.S. Transportation Secretary Ray LaHood. "By updating our safety standards, we're helping give drivers peace of mind that their brakes will work even if the gas pedal is stuck down while the driver is trying to brake."
The NHTSA proposal aims to minimize the risk that drivers will lose control of their vehicles as a result of either accelerator control system disconnections or accelerator pedal sticking or floormat entrapment. The proposal would amend Federal Motor Vehicle Safety Standard No. 124, Accelerator Control Systems, by updating the throttle control disconnection test procedures for all passenger cars, multipurpose passenger vehicles, trucks and buses, regardless of weight.
For vehicles that have Electronic Throttle Control and a gross vehicle weight rating of 10,000 pounds or less, the proposal would also require manufacturers include a BTO system to ensure the vehicle would stop if both the brake and the accelerator pedals are applied simultaneously. Many manufacturers already are including BTO systems in their vehicle fleets.
"We learned as part of the comprehensive NASA and NHTSA studies of high-speed unintended acceleration that brake override systems could help drivers avoid crashes," said NHTSA Administrator David Strickland. "While NHTSA's defect investigation program will continue to monitor and consider consumer complaints of any potential vehicle safety issues, this proposal is one way the agency is helping keep drivers safe and continuing to work to reduce the risk of injury from sticky pedals or pedal entrapment issues."