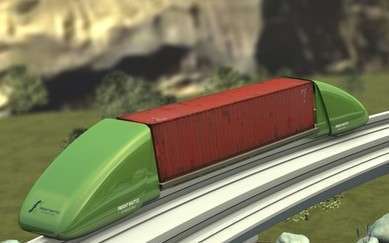 This year, three California ports will begin a project to move freight with barges instead of trucks. Meanwhile, Texas officials hope to decrease truck movement with a shuttle system.
In recent years, government entities facing congested roads, emissions and shrinking maintenance dollars increasingly have sought ways to transport cargo by means other than trucks.
The Oakland, Stockton and West Sacramento ports will share a federal stimulus grant to establish a barge container system to move freight between the ports, according to the California Department of Transportation. "The California Green Trade Corridor/Marine Highway Project is a $30 million investment to develop a marine highway system as an alternative to shipping freight by truck," it stated March 14.
The project, expected to begin late this year, will eliminate tens of thousands of truck hauls on the I-580, I-80, I-205 and I-5 corridors.
Last year, Freight Shuttle International submitted the only response to the Texas DOT's request for proposals for a low-emission freight transportation facility on the I-35 right-of-way. In return for up to 50 years of lease payments, Freight Shuttle would finance, build and maintain a shuttle between San Antonio and Dallas.
Using steel wheels and electric power, FS transporters carry a standard-size freight container or an over-the-road trailer between two points 600 miles (or less) apart. Electrical single-unit transporters, elevated guide ways and a terminal are linked together by an intelligent command, control and communications network for point-to-point freight delivery.
El Paso Mayor John Cook and U.S. Rep Silvestre Reyes (D-El Paso) promoted the shuttle to decrease truck traffic between El Paso and Juarez, Chihuahua, Mexico in a March 26 meeting with Homeland Security Secretary Janet Napolitano.
City councils in both cities have signed letter of intent and the Regional Economic Development Corporation is actively promoting the system.
In Mexico, Nuevo Leon is creating a master plan that includes specifications and recommended alignment of a 150-mile Freight Shuttle from Monterrey to the Texas border that ultimately will link to Dallas.
The shuttle is one of the truck substitute technologies considered under the ports of Los Angeles and Long Beach's Technology Advancement Program to as an electric powered systems to transport containers from the two ports to Southern California destination.
The program evaluates strategies and provides funding for pilot demonstration programs. The ports' joint study to evaluate technologies to transport containers from the ports to near-dock rail facilities included a freight shuttle system.