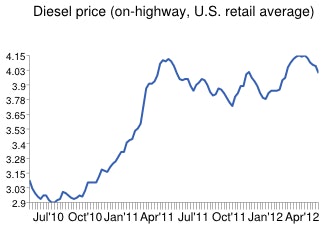 The national average retail diesel price fell 5.3 cents to $4.004 a gallon for the week ended Monday, May 14, according to the U.S. Department of Energy's Energy Information Administration. The average price is 5.7 cents below the same week in 2011. If the trend continues, diesel will fall below $4 a gallon on a national basis next week for the first time since the week ended Feb. 20.
Average retail prices fell in all regions, led by a 6.5-cent decrease in the Midwest, where diesel is, on average, the nation's cheapest at $3.897. The smallest decrease was 3.4 cents on the West Coast (excluding California). As usual, California had the most expensive diesel at 4.349 cents a gallon on average.
Complete diesel price information is available on EIA's Website.