The latest is following the Federal Motor Carrier Safety Administration's formal removal of the remedial-directive rule, which would have required carriers with big hours compliance problems to install electronic onboard recorders. After being thrown out by the court last year, FMCSA's finally removed it from the regs.
A feature in the Bismarck, N.D., Tribune newspaper over the weekend, however, shows how repeal of the 2010 EOBR rule doesn't mean operators who oppose any mandate for the devices can rest easy. A provision of the Senate two-year highway bill — currently in conference with the House — would require EOBRs for all interstate carriers, and FMCSA's stated intention is to go for a mandate on the regulatory end as well.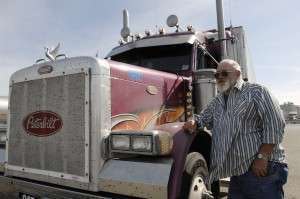 Featured in the Tribune story is owner-operator Bob McArdle (click through the Tribune picture of him here for the full piece), who echoes so many out there in urging regulators and other government officials to see the root problem of shipper/receiver delays as the key to combating any hours-violation culture that may exist.
FMCSA has said they're conducting "research" on that problem, also noting that to get into the regulation of detention pay they will definitely need more authority over shippers and receivers from Congress. While some owner-operators have suggested that this is clear indication that the agency intends to do nothing about the problem, requesting more regulatory authority isn't of course unprecedented for FMCSA.
McArdle likewise joins many others in disputing that any "violation culture" exists in trucking to begin with, in large part. The vast majority of haulers are "law-abiding family people," he told reporter Jessica Holdman. "We just want to get home and the government is making it hard for us." Read Holdman's story here.
Discussions of a potential mandate have keyed up in a big way online. Owner-operator William McKelvie recommended anyone interested in further exploring the issue to listen in on the archive of a recent edition of the Center Lane Show, hosted by the folks at VideoDashCam.com on Blogtalkradio.com. Their open-forum program (running every Wednesday) last week was a lively discussion devoted to the EOBR listening session in Washington State April 26 that I wrote about here.
Following find links to past posts relative to EOBRs on the blog as well:
Could EOBRs solve the detention dilemma?
Speak out today in EOBR session
Owner-operators deliver in MATS EOBR listening sessions
Hours debacle covered at news site Politico
More than a typo? Split sleeper wishful thinking