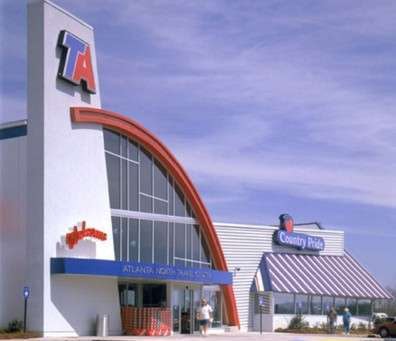 Shell and its affiliates have signed a memorandum of understanding with TravelCenters of America to sell liquefied natural gas to the heavy-duty transport market in the US through TA's existing nationwide network of full-service fueling centers.
Pending final agreements, the proposed plans include constructing more than 200 LNG fuel lanes at roughly 100 TA sites and Petro Stopping Centers throughout the US interstate highway system. If a final agreement is reached, the first of the LNG fuel lanes are expected to become operational in 2013.
"Shell sees great potential for LNG as a fuel option among our range of quality fuels, due to the sheer abundance and affordability of domestic natural gas in North America. Where it makes sense and where there is customer demand, we will innovate to deliver LNG as an additional fuel offer to our customers across America," says Shell VP Elen Phillips.
The agreement with TA represents the next phase for Shell in its plan to provide trucking fleet customers in North America with a robust fueling infrastructure, Shell says. Last year, the company announced it would sell LNG to its heavy-duty fleet customers at select Flying J truck stops in Alberta, Canada, beginning in 2012. The first LNG retail plaza in Calgary is expected to open this year.