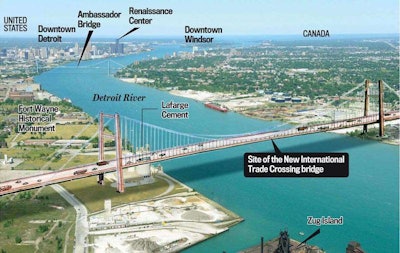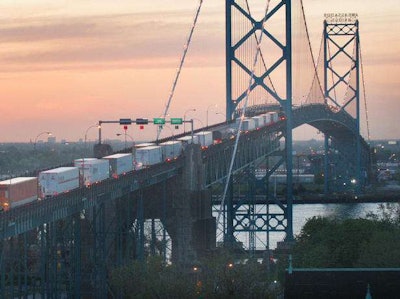 Michigan and Canada have finalized an agreement to build a new $950 million bridge between Detroit and Windsor, Ontario, that will be toll-free on the U.S. side.
The New International Trade Crossing, which will include the bridge, Canadian and U.S. inspection plazas and an interchange with Interstate 75, could take up to five years to build. An international authority with an equal number of members from both sides will oversee bids.
Michigan Gov. Rick Snyder noted in his June 15 announcement that Detroit-Windsor is the busiest North American commercial border crossing. The privately owned and operated Ambassador Bridge carries 99 percent of commercial traffic through Detroit.
The bridge owner is leading an effort to put a ballot initiative against the bridge.
The 83-year old bridge lacks a direct connection between Interstate 75 in Michigan and Highway 401 in Canada. Truckers are funneled onto Windsor's commercial streets in Windsor, where they hit 17 stoplights before reaching the highway.
Michigan is not obligated to pay NITC's costs and Canada's expenditure of $550 million will serve to allow the state to receive U.S. federal matching funds. The NITC's design, construction, operation and maintenance will be done through a 40-50 year public-private partnership agreement between the authority and the private entity as concessionaire.
Canada will make annual "availability payments" to the concessionaire to fund expenses. It also will charge tolls to reimburse its government for NITC advances and for annual availability payments to the concessionaire.
The Ontario Trucking Association and Canadian Trucking Alliance have been proponents of a second truck crossing for more than a decade.