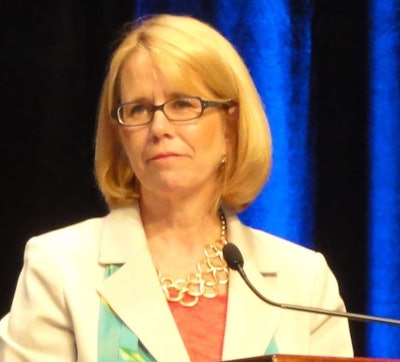 The folks at the Trucking Solutions Group — including members we've written about on the blog, from owner-operators Rick Ash and Bob and Linda Caffee to Henry Albert — are hosting an open conference call with FMCSA Administrator Anne Ferro today at 3 p.m. EDT today. Call-in details you can find here, and I'll include them in this post as well below.
If you have questions for the administrator, please email them ASAP to Ash at rick @ truckingsolutionsgroup [dot] org. Callers will not be able to speak directly to the administrator due to limitations of the TSG's call-in module, but the call's open to all who would listen.
It's not the first time TSG has opened up the lines in to Administrator Ferro. Track back through this link for more about their prior calls. In that last call, Administrator Terro noted that shippers should be held accountable for excess detention at loading docks. Since then, as I've noted here, FMCSA has stated they don't currently have authority to regulate shippers by, say, imposing mandatory detention pay requirements on them, but are researching the full extent of the detention problem.
I'm curious myself to know: Will FMCSA pursue through Congressional action or other measures any solution to the detention problem? What have been the results of FMCSA's research into the extent of the problem? In any case, tune in to the call via (712) 432-0075, using access code 550718. If you can't tune in via the call, I'll be tweeting out some of the highlights via my Twitter feed @channel19todd.