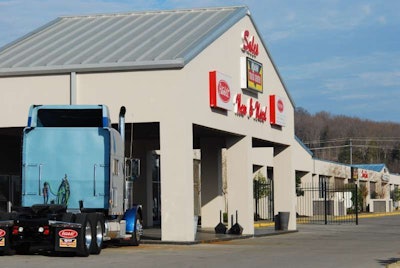 Owner-operator Jeff Clark got into his 2006 Volvo when it was new, paying $105,000. He's "priced a similar 2012 for about $135,000," he says, representing nearly a 30-percent price rise in just six years. Rates aren't exactly keeping up with that level of cost increase for equipment, a trend owner-operators have felt hard in the last several years.
Landstar's owner-operators haven't bought many new trucks in recent years, says Joe Beacom. "That is related to more than truck costs, though, as financing is much harder to come by and the general lack of confidence in the overall economy has limited demand."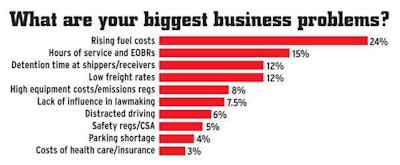 Last summer, small fleet operator Tom Blake priced a new International ProStar with Maxxforce 13- and 15-liter engines, respectively, loaded with factory anti-idling technology in the form of battery banks and "all the latest" bells and whistles, he says. In the end, with respective price tags of roughly $150,000 and "160-something for the big motor," Blake says, "I looked at it over a five-year lifespan and couldn't justify it.
"I've been paying cash for my trucks, and I make a payment to myself on each truck, which translates to where I can buy a decent used truck every year and keep on rotating trucks that way — they're paid for when they come off the lot and you sleep better. I would have had to go into debt with the new truck, and with not knowing what the economy is going to do I didn't want to have that stress."
For many buyers, used equipment continues to be the best refuge. Owner-operators "inspecting the truck themselves" can "save themselves thousands of dollars," says Jerry Connolly, President and CEO of Truck Centers, a truck auction business. "We've seen over six years a real influx of end-users, the small guys versus the big guys."
According to an American Truck Dealers/NADA report, used prices also have been rising significantly. "Because of the low new-truck build rate from 2007 to 2010 combined with the slow but steady domestic recovery, we expect the supply and demand relationship to favor high pricing for sleeper tractors," says Chris Visser, senior analyst with the American Truck Dealers' Commercial Truck Guide.
For other equipment, membership in buying groups (whether through a carrier or a trade association) can bring significant price discounts. "Over the last several years," says Beacom, "the Landstar Contractor Advantage Purchasing Program has seen a fairly consistent level of tire purchases and a high degree of interest in accessories that have an easily calculated payback," such as APUs.
Track back through the top four owner-operator challenges via these links:
No. 1: Fuel prices
No. 2: Hours and EOBRs
No. 3: Uncompensated, excessive detention
No. 4: Low freight rates