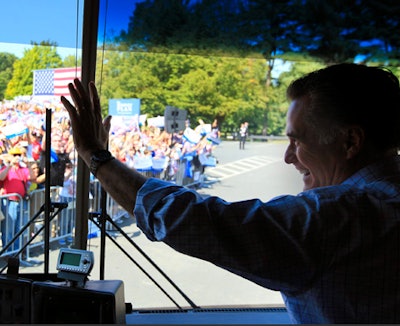 Republican presidential nominee Mitt Romney is the top recipient of overall contributions from trucking industry groups.
Carriers, truck rental companies and truck and trailer manufacturers have provided $380,035 to the former Massachusetts governor. Separate from that, American Trucking Associations President Bill Graves gave $587,500 to Romney's campaign as a bundler or a conduit, an individual or group that collects and delivers contributions to a candidate.
President Barack Obama has received $32,277 from trucking-related groups.
The industry traditionally has backed mostly Republican candidates in federal races and currently has 86 percent of its financial support behind GOP candidates, according to the Center for Responsive Politics. The non-partisan, non-profit research group tracks political contributions and provided the data.
The presidential candidate with the second highest overall trucking donations is longtime Texas Gov. Rick Perry, who received $72,250 before dropping out of the Republican primary.
Trucking also donated $49,322 to twelve-term Texas congressman Ron Paul, who left the GOP presidential race last month.
Tying for third place in industry donations are two non-presidential GOP candidates who each received $60,500. Six-term congressman Jeff Flake and former Virginia governor George Allen are vying for Senate seats in their respective states.
Federal candidates received a total of nearly $6.3 million trucking sector dollars, with about $4.7 million of that from individual donors and almost $1.6 million from Political Action Committees. The remaining $11,000 is soft or outside money to political parties and outside spending groups.
The CRP ranks the American Trucking Associations as a "Heavy Hitter," which means it is one of the 140 biggest overall donors to federal elections since the 1990 election cycle. This election cycle, it contributed a total of $562,400 to candidates and the remaining $106,150 to political parties and outside spending groups.
In congressional races, three Republican members of the House Transportation and Infrastructure Committee were the top recipients of ATA funds.
Iowa Rep. Tom Latham, an appropriations transportation subcommittee member in his ninth congressional term, received the most ATA contributions with $12,750. Florida Rep. John Mica, chairman of the transportation committee chairman and Pennsylvania Rep. Bill Shuster, chairman of the Railroads Pipelines and Hazardous Materials subcommittee, each received $10,000 from the organization.
The Owner-Operator Independent Driver Association contributed $293,738 this election cycle. Candidates received $275,738 of that while the remainder went to PACs, parties and outside spending groups.
OOIDA's highest contribution to a candidate was $10,000 to West Virginia Rep. Nick Rahall, now in his 18th term and a ranking member of the House transportation committee.