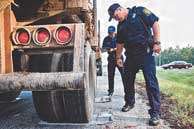 In response to a report by the American Transportation Research Institute that determined CSA scores do not accurately portray a carrier's crash risk, the Federal Motor Carrier Safety Administration says contrarily the report shows evidence supporting the program's effectiveness.
FMCSA has said ATRI's report on the agency's Compliance, Safety, Accountability program shows CSA's effectiveness in reducing crashes. ATRI's report concluded, however, that CSA scoring measures are ineffective.
FMCSA mentioned the institute's Oct. 1 report on its CSA website Oct. 9. ATRI, part of the American Trucking Associations Federation, analyzed the Safety Measurement System and crash data of 471,306 carriers with evidence of activity in the past 24 months.
Institute researchers assessed the Behavior Analysis and Safety Improvement Category scores available to the public. They found a "strong safety basis for the Unsafe Driving, Fatigued Driving and Vehicle Maintenance BASICs."
Further, the analysts found "partial support for the Controlled Substances and Alcohol BASIC and no support for the Driver Fitness BASIC."
The agency stated that "based on FMCSA's preliminary review of the report, ATRI's findings in many ways confirm the effectiveness of the CSA program." It would conduct an in-depth review of ATRI's report and "carefully consider this information" in bettering this program.
The institute also announced results of its annual survey of than 4,000 trucking executives at the ATA Management Conference and Exhibition Oct. 9. For the first time, respondents ranked CSA as its top issue, followed by hours-of-service regulations. Last year's top concern, the economy dropped to third place
ATRI currently is analyzing direct and indirect supply chain impact of CSA.
The U.S. House the Committee on Small Business held a July 11 hearing on CSA, followed by the House Highways and Transit Subcommitte's hearing on the program Sept. 13.