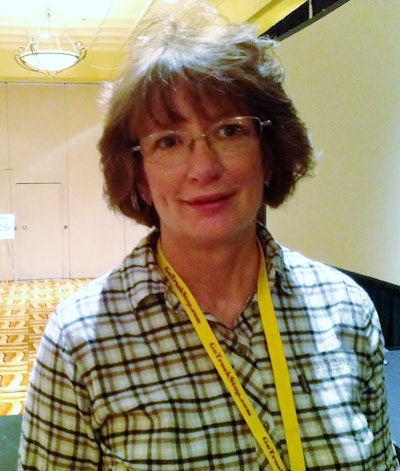 The Jason Rivenburg Making a Difference Award, intended for individuals in trucking who are impacting the industry in positive ways, honored five women at the 2012 Truck Driver Social Media Convention in Kansas City on Sunday, October 28. "
The winner of the 2012 award is Kari Fisher of the Missing Truck Driver Alert Network — a Facebook page in its first year with more than 2,000 members and website dedicated to providing information and mobilizing the drivers on the road today to help locate missing drivers around the nation. Fisher and the network received $500 in addition to the recognition the award provides. Through the network, drivers can also sign up to receive text alerts on missing drivers to assist in locating them. Visit their website or search "Missing Truck Driver Alert Network" on Facebook.
Fisher rides with her husband, owner-operator Lee Fisher, hauling flatbed leased to Moore Bros. of Norfolk, Neb.
Four runners-up, who all received gifts from T.J. Graff of new lifetime Making a Difference Award sponsor GoTruckStop.com, were as follows:
Desiree Wood, for her tireless advocacy on behalf of Jason's Law and other efforts;
Kylla Leeburg of Truckers Against Trafficking for the organization's efforts to serve as liaison between law enforcement and the trucking industry, providing information on the problem of and mobilizing driver efforts to combat human trafficking in the United States;
Sandy Long, a driver and writer, for her trucker advocacy; and
Kathy Cass, for her passion for working to promote drivers' image and other efforts.
The Making a Difference Award is named after the deceased husband of its first recipient. Hope Rivenburg was honored at the 2011 TDSMC event in Tunica, Miss., for her tireless work to promote the "Jason's Law" truck parking legislation, named after her husband, who was murdered during a robbery while parked at an abandoned service station in South Carolina. The parking legislation was finally included in this year's MAP-21 highway bill after three years of tireless advocacy by Rivenburg,many drivers and their advocates around the industry.