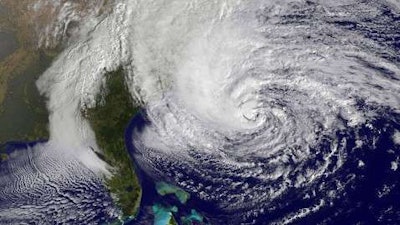 Here's a collection of what local news outlets, major news outlets and state DOTs are reporting as far as road closures and other information regarding Hurricane Sandy and the two winter storms on the East Coast. If you have any news or information, feel free to comment below or email jjaillet@randallreilly.com. Information will be posted as it becomes available.
Connecticut: Gov. Dannel Malloy ordered that trucks were no longer allowed into the state after 11 a.m. Monday and ones already in the state were no longer allowed on state highways. At 1 p.m. Monday, all state highways were closed for all non-emergency vehicles. Resources: governor.ct.gov.
Delaware: Gov. Jack Markell has ordered a statewide driving restriction that began this morning at 5. It is a Level Two restriction, and according to state law, "no person shall operate a motor vehicle on Delaware roadways other than essential personnel." Essential personnel, the state says, includes only "those employees necessary to maintain the core functions of government and maintain health and safety by providing utility services, healthcare services, and food and fuel deliveries." A violation brings a fine of up to $115 for the first offense and a fine of $200 and up to 30 days in jail for subsequent offenses. Also, the state posted this morning, tolls on both I-95 and Route One have been waived until further notice. Resources: deldot.gov.
Maryland: The State Highway Administration says there are road closures state wide due to high water and trees down, and crews are adjusting signal timing and will post warnings when possible. A new law mandates that drivers treat all intersections where traffic signals don't function as a four-way stop. Resources: md511.org, roads.maryland.gov. Truckers in Maryland looking for a place to take their tractor-trailers during Hurricane Sandy may want to use the Maryland State Highway Administration's emergency truck parking portal that includes an app for iPhones, Androids, Blackberry and iPad users. Designed for 6-plus inch snow storms, tractor-trailer drivers may use several commuter park and ride lots for safe haven to ride out the storm instead of parking on ramps and roadsides.
New Jersey: Gov. Chris Christie has declared a state of emergency that allows trucks delivering food, water, fuel and other essential supplies, as well as contractors supporting the restoration of utilities to be exempt from FMCSA's 34-hour restart rule relative to hours of service. Drivers of commercial motor vehicles carrying the aforementioned goods can drive on-duty in 7-8 consecutive days without taking a 34-hour restart. Ports of New Jersey and New York are closed. Resources: panynj.com.
New York: If sustained winds reach 50 mph or more, tractor-trailers will be barred from using bridges, Gov. Andrew Cuomo said in an announcement. Road closures for now are being determined on a case-by-case basis based on weather conditions at the time. Ports of New Jersey and New York are closed. Resources: 511ny.org, @NYGovCuomo on Twitter.
Pennsylvania: PennDOT has prohibited Class 9 vehicles, empty straight trucks, large combination vehicles (tandem trailers and doubles) and tractors hauling empty trailers from traveling on: Interstates 81, 78, 83, 84, 380, 176, 76 and 283; Route 283; I-80 east of I-81; Pennsylvania Turnpike from New Jersey to Carlisle and the Northeast Extension; Route 581; U.S. Routes 15, 30, 22/322 and 33. Resources: 511pa.com, @PennDOTNews on Twitter.
Virginia: The Virginia DOT announced at 6:30 p.m. Monday that the storm has affected the Hampton Roads region and the eastern side of I-95 and is causing closures in northern Virginia. Heavy snowfall is also expected in higher elevations. A full list of road closures and advisories is located on the state's 511 site — click here to see it. Resources: 511virginia.org.