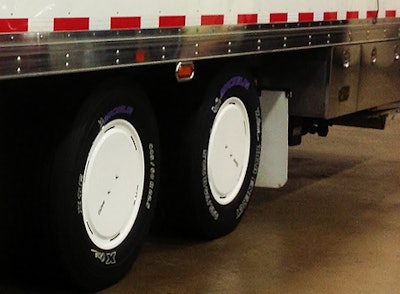 Click here to see the first 10 fuel tips about using anti-idling techniques to save money.
11. Choose an aero-designed model for your next truck.
Truck makers have perfected the design of the front bumper, hood, under-hood-breather, fenders, mirrors and other features to move air as smoothly as possible under, over and around the truck and trailer.
12. Add a roof fairing.
If you're running a flattop tractor or midroof in a van or reefer application, the addition of an aftermarket roof fairing can smooth the flow of air over the top of the trailer, improving fuel efficiency. Some tests indicate that a full roof fairing, combined with side shields/extenders, in certain applications can deliver up to a 15 percent improvement in fuel economy.
13. Add a tail or undercarriage fairing.
Add-ons like the trailer tail and side skirts on owner-operator Brett Tobin's van can reduce aerodynamic drag and help stability in crosswinds. The tail reduces the drag created by the vacuum at the back of a fast-moving tractor-trailer. Some operators report a full mile-per-gallon boost from using a trailer tail combined with side skirts. Undercarriage fairings work on the drag at the rear of the trailer as well, with a primary component installed ahead of the trailer axle to deflect air down and away from the axle plumbing. Adding a device often called a "diffuser" in front of the dock bumper, along with side fairings, will increase fuel savings.
14. Install side skirts
Many owners have installed skirts on van and reefer trailers to minimize the drag produced by the swirling of air under the trailer. Side skirts can deliver a savings of 7.4 percent, according to EPA-verified SAE Type II testing.
15. Choose a lower sleeper roof.
The stand-up sleeper with a full roof fairing is not always the most fuel-efficient choice when it's not paired with a dry van or reefer. In liquid bulk operations, a midroof sleeper is going to be your best bet for aerodynamics. In most flatbed applications, loads are unlikely to rise above the height of a midroof setup as well. For some high-density-load haulers, a flattop may even be the best choice.
16. Use rounder mirror backs.
If you're utilizing old-style flat West Coast mirrors for the side views, consider moving to mirrors with a more rounded back to further enhance airflow.
17. Dress your tanks with aero steps.
Fuel tank fairings paired with steps that smooth airflow over the lower side of the tractor can improve fuel performance 2 to 3 percent, by some estimates.
18. Adjust the fifth wheel to narrow the truck-trailer gap.
The ideal gap should be around 30 inches. Every 10-inch increase produces 2 percent more drag. Move the fifth wheel forward, if possible, to get better fuel economy.
19. Use dry van gap fairings.
At the front of dry vans, gap fairings ease airflow over the tractor-trailer gap. This can boost fuel efficiency by 1 percent when paired with a highly aerodynamic tractor with a tight truck-trailer gap length.
20. Cover wheel hubs.
Bob and Linda Caffee run with these aerodynamic hub covers on the drives of their Freightliner Cascadia expediting straight truck. Hub manufacturers estimate 1.5 percent to 3 percent in fuel savings when all outside-facing wheels are outfitted with the devices, which smooth airflow across the wheels.
21. Use cab side extenders.
For tractors not already optimized for aerodynamics, installation of cab side extenders can create a smoother airflow over the tractor-trailer gap. Makers estimate a fuel efficiency improvement of 1 to 3 percent.
22. Add nose cone fairing.
For flattop or midroof tractor owners pulling dry vans, nose cone fairing technology combines the vertical fairing of more standard tractor-trailer gap technology with an outsize fairing at the top to direct air both over the trailer and down and around the sides.
23. Install Airtabs.
Some owner-operators swear by Airtabs, such as these installed on owner-operator James McCarter's Freightliner. Recommended installation is on the hood, along the sides and at the top rear of the tractor and/or trailer. The company says each one creates air swirls "that combine to reduce the suction and drag at the rear of vehicles traveling at speeds above approximately 35 mph." Based on a study involving Britain's Institute of Road Transport Engineers, the technology is said to produce fuel savings of 2 to 4 percent.
24. Choose aero mudflaps.
Years ago, some owner-operators running wide-single tires in drive and trailer positions began custom-cutting mudflaps and brackets to eliminate the overhang of conventional mudflaps to reduce drag. Other options exist today, such as porous mudflaps.