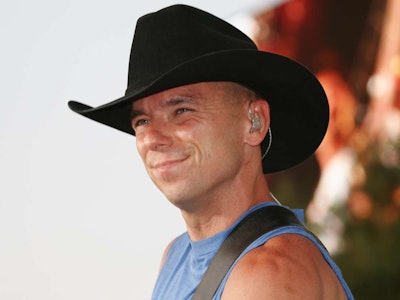 Singer-songwriter Kenny Chesney was presented with the Shell Rotella Road Warrior Award Thursday night at the Billboard Touring Awards and Conference, held Nov. 7-8 at the Roosevelt Hotel in New York City. The award, recognizing touring work ethic, professionalism and artistic integrity over the long haul, was presented to Chesney by Rotella Global Brand Manager Chris Guerrero.
"The Shell Rotella brand is very pleased … to acknowledge the hard work done by the touring industry to ensure that some of America's top artists and acts are able to perform," he said. "We think it's also important to recognize the professionalism and work ethic of drivers and road crews that put in thousands of miles on the road each year."
Representing those crews at the conference this year were Nashville-based Trent Hemphill, president of Hemphill Brothers Coach, and Pioneer Coach President Doug Rountree, among others. In the "Trax" open forum at the conference Nov. 7, Hemphill and Rountree highlighted the skill with which touring coach companies and their drivers keep passengers safe, happy and on time in an often challenging environment. "Drivers are key," said Rountree. Often driving while their cargo sleeps, "they pride themselves on taking an exit, getting off the highway, fueling and getting back out onto the highway without the band ever knowing it."
In terms of equipment, coach companies today face challenges similar to those of fleets and owner-operators. With each round of EPA emissions, Hemphill's new equipment, largely Prevost buses with Volvo D13 engines, presents interior conversion hurdles in building around new exhaust plumbing.
For Hemphill Brothers technicians, too, the learning curve with the new emissions regs has been steep. Many of the company's older Prevost coaches are powered by Detroit Series 60 engines. "The technicians all knew Detroit like the back of their hands," he said. Today, as "the motors continue to change," continuing education is necessary to effectively diagnose and solve maintenance problems.
The Billboard Touring Awards are primarily based on the Billboard Boxscore chart and actual venue box office performance between Oct. 1, 2011, and September 30, 2012. Non-boxscore awards, in addition to the Road Warrior honor, included the Humanitarian award for New York City's Apollo Theater, the Creative Content Award for Cirque du Soleil's Michael Jackson Immortal World Tour and the Legend of Live honor, which went to longtime singer-songwriter Neil Diamond.
Diamond's notoriety and career longevity has been driven in large part by his live performances. "There is no musical expression that quite compares with that of presenting your work live to an audience," Diamond said. "It is the kind of experience that can both exhilarate and humble you at the same time. I'm honored."