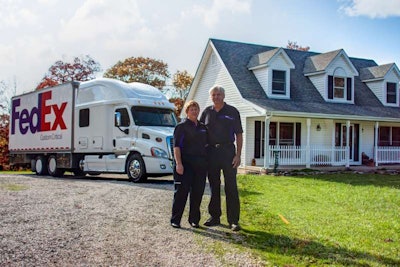 It took years for Silex, Mo.-based owner-operators Bob and Linda Caffee (pictured) to find their fit in expediting. Following Bob's 20 years of work as a diesel mechanic and Linda's long tenure in the information tech department of the county courthouse in Elkhart, Kan., the couple found a home when they leased to FedEx Custom Critical. As with many expediters, the pair took to hauling only after their children flew the coop.
"Bob drove tractor-trailers for four years, initially, and I rode with him," says Linda. Running hard as company drivers, though, "we found that we didn't fit the driver mold."
They chose expediting in part because there was no need to pull a trailer — they use expediting power units, which often include the cargo-carrying box, sometimes refrigerated.
Freight that needs expediting
Any expediter will tell you no two loads are the same. Expediter Don Lanier, operating a straight truck, might average 1,000 to 7,000 pounds in his 24-foot cargo box. All the same, two general categories of load stand out:
1. The emergency load. Much of expedited freight stems from a manufacturer or other receiver that needs something fast to meet a production schedule or to keep a plant from shutting down. "We get called when there's an 'oh no' moment," says David Pike with Express-1.
2.
The high-value, high-security load. "Just-in-time freight put expediting on the map," says Panther Expedited's Jeff Garra. "But over the last several years, it's transitioned to not only time-sensitive loads but special care and handling."
For example, with pharmaceuticals requiring transport at specific temperatures, expedited carriers offer exclusive use of the truck – and a team operation to ensure constant eyes on the freight. One of small fleet owner Lyn Brumfield's five trucks, a reefer-equipped Freightliner Columbia, "stays busy all the time. The reefer freight is basically pharmaceuticals."
Also, Linda says, "being older, we wanted to be able to travel," to see the country and make money at the same time. If you're not in a hurry to get home, the occasional long waits between loads offer opportunities for exploration both urban and rural, made easier by often-smaller trucks and lack of a trailer.
It's just one of the many attractions that have brought traditional truckload owner-operators, as well as many husband-wife empty-nesters and others, into the niche in sizable numbers over the 20 years of growth it's seen. Owner-operators well suited to expediting's demands also will find better fuel mileage and other reduced costs, more income on fewer miles and load and lane novelty.
In fact, expediting could be one of the last profitable bastions of the old irregular route long-haul that longtime Overdrive readers cut their trucking teeth in through the 1960s and '70s. While some local and/or regional operations may include a semi-regular haul or two, the nature of the business means no two loads are the same: Where you'll be tomorrow often depends on who has an emergency today.
In this story — as well as part 2 — find some of the ins and outs of expediting.
Equipment
The Caffees' first truck was a 2005 Freightliner M2 somewhat similar to the 2007 M2 unit (pictured) former J.D. Logistics-leased operator Don Lanier now drives in the Nashville,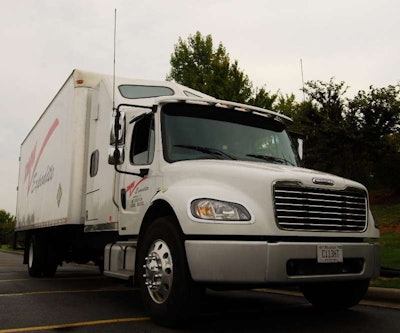 Tenn.-based operation of DMW Expedite. The price tag on the Caffees' M2, complete with a 96-inch walk-in sleeper by Double A and a 24-foot cargo box, was $102,000.
That's not cheap, but consider the operational details. Lanier tracks the fuel mileage from his Mercedes diesel at right at 10 mpg. He runs with a typical load of 1,000 to 7,000 pounds.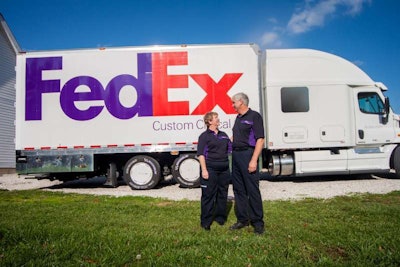 Lest you're tempted to attribute the mileage strictly to the smaller Class 7 vehicle, consider that the Caffees, running today in a 2012 Freightliner Cascadia (pictured) with a 100-inch Bolt Custom Trucks integrated custom sleeper and 23-foot cargo box, have achieved a lifetime 11.6 mpg. Their fuel surcharge is based on 9 mpg, so they're making extra money on fuel.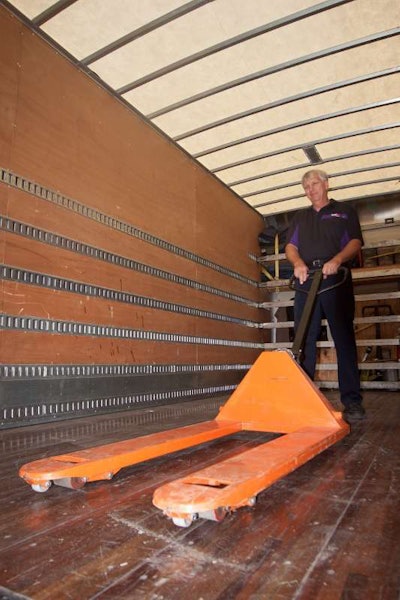 It's also not out of the ordinary to run expedited in a tractor with a fleet-provided trailer. Representatives with FedEx Custom Critical, for instance, report that they lease more than 400 owner-operated tractors, or about half the number of straight trucks.
Other necessary equipment reflects the diverse nature of expedited freight. "Some freight haulers, if they have three load bars in the van, they consider themselves well-equipped," says Linda Caffee. The Caffees run with "10 load bars, 40 blankets. We have a pallet jack, all kinds of dollies … you never know what you're going to go in and pick up." They also want to avoid any cargo damage claims because of their $2,500 deductible.
Carriers
Small fleet owner-operator Lyn Brumfield owns five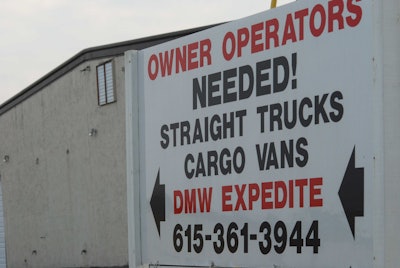 straight trucks and a cargo van. His Campobello, S.C.-based fleet is leased to Panther Expedited, where he's been since he bought his first truck in 2002. After four to five years teaching school and nearly two decades in sales, he wanted to be his own boss.
At Panther, Brumfield found the traditional owner-operator independence. Says Capacity Development Manager Jeff Garra, "You get to decide as a whole what your lifestyle will be, what your revenue is going to be." It's not uncommon, says Recruiting Director Kyle Mitchin, for Panther owner-operators to decide "they want to do this for half a year and have half a year off."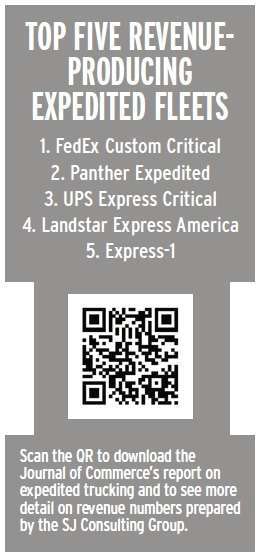 Leasing to a larger carrier is the most common way of getting freight in the box in the segment, though as Brumfield's example illustrates, there is opportunity for an owner-operator with his own fleet. FedEx Custom Critical and Express-1 reps also expressed a keen desire to lease with new small fleets.
In a report on expediting in the May Journal of Commerce, Panther was second among the top five revenue-producing expedited fleets. Four of the top five are almost entirely owner-operator driven. Express-1, No. 5 on that list, is 100 percent owner-operator, says Director of Recruiting David Pike.
There are plenty of smaller outfits, too. Lanier, for example, has gravitated to DMW and J.D. Logistics in Michigan. The latter, says Lanier, was auto-industry heavy, but DMW also does a hefty business with auto parts, particularly in regional cargo-van-powered shipping. Morris Finley, owner-operator of a high-top 2012 Nissan NV2500 van, says most of his loads are auto parts-related. He often runs between Southeast plants and the Nashville airport.