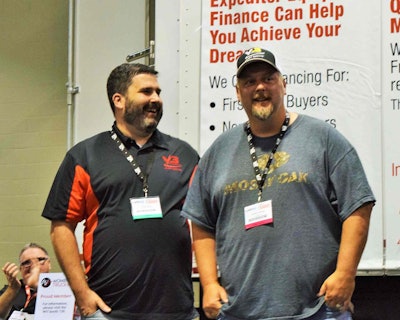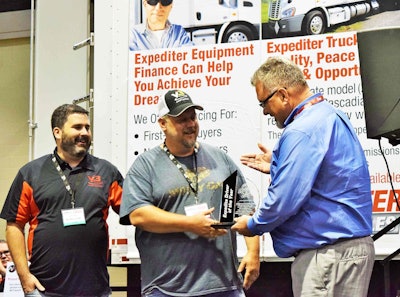 Owner-operator Robert Burton (above, center) was named the Expediter of the Year in an awards ceremony at the end of the Expedite Expo, held July 14-15 in Lexington, Ky. Donating the $500 prize that came with the award to the St. Christopher Truckers Development and Relief Fund, Burton, who hauls leased to V3 Transportation, embodied one of the qualities his wife lauded him for in her nomination of him for the award.
"What truly makes him a hero," Christy Burton wrote, "is what he does every day. Anytime he sees someone who needs help, he offers it. From the driver that had a severed battery cable, to the little old lady on the side of the road with a flat tire. He put himself in danger to put out a car fire in Texas. When he couldn't put it out, he closed the highway to avoid other motorists getting hurt. Why? Because there were numerous bottles of oxygen in that burning car."
Burton giving spirit was no doubt a quality that led judges and Expedite Now's Lawrence McCord (pictured above, right) to award the prize to Burton. It's one he also shares with award runners-up, also recognized at the Expo and detailed below.