If you missed part 1 of this series on the expedited segment of trucking, covering the basics of equipment and carriers leasing owner-operators, find it here.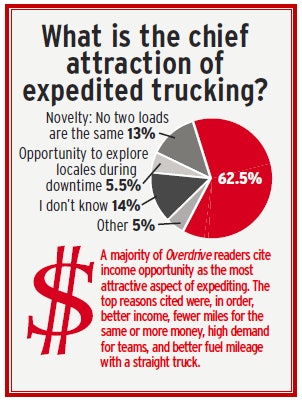 In general, most owner-operators see the potential for boosted pay in the expedited segment as its chief attraction. To produce $280,000 to $320,000 in yearly truckload revenue, says David Pike of Express-1, a team might have to turn 6,000 to 7,000 miles a week. In expediting, the same revenue is available on 12,000 miles a month, bringing in $25,000 to $30,000.
"You'll sit a whole lot on just 3,000 miles a week as a team," Pike adds. For anyone thinking of getting into expediting, it's important to understand that, compared to truckload, fewer miles run is something of a norm.
Operators at Express-1 are paid by the mile — $1.20 plus the fuel surcharge for straight trucks with solo drivers; for teams, $1.24 plus fuel, and $1.40 plus fuel for tractors. Panther also pays by the mile, at an advertised $2.10 fleetwide average, which includes fuel surcharge and accessorials. Many expediters get their hazmat credential to increase earning potential for Defense Department and other high-value loads.
Small fleet owner Lyn Brumfield, leased to Panther, has teams who drive his trucks as contractors and net as much as $120,000 yearly on about 150,000 or more miles.
Learn more about expediting
The closest thing to an online community for owner-operators and others involved in expedited trucking is the Expediters Online.com website, says owner-operator Phil Madsen. An associated print publication, Expedite NOW, supplements the website, forum and events put on by the business.
Leased to Landstar Express America, Madsen runs team with his wife, Diane, in a Class 8 Volvo straight truck. His daily "Learning something new every day" blog via successfulexpediters.com provides a good feel for the day-to-day of expediting in his irregular route journeys.
Some other carriers pay percentage or, as is the case at FedEx Custom Critical, offer contractors in certain divisions a choice of percentage or mileage pay (except for their cargo van services and for straight trucks in the premium White Glove division).
The Caffees run under the percentage plan, getting 59.5 percent of a load's gross. If that sounds low, say both Linda Caffee and company Managing Director of Operations Jason Frederick, consider the backend service and management of the large customer base Custom Critical provides. "We are providing exceptional service to that customer that dictates a higher rate," says Frederick. "You get expedited service when you're a customer" on both ends, from the office staff and the driver.
Custom Critical is able to leverage the buying power of the full FedEx fleet to deliver vendor discounts on things such as "truck washes, maintenance, tires and fuel," Frederick says. "We try to put the owner-operator in a great position to be profitable."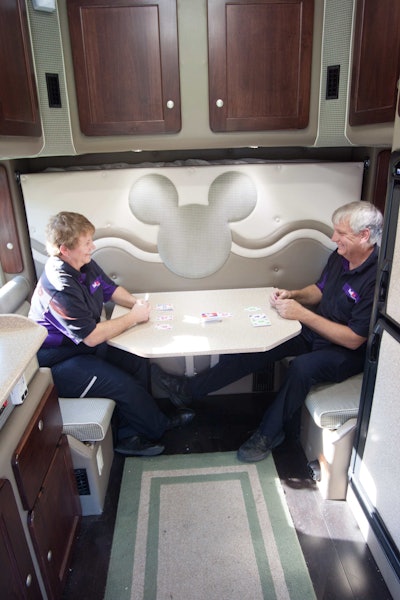 An operator with a reefer unit will get a few more percentage points under that package as well. The mileage package varies by type of unit, team operation and division from a base $1.65 for tractor-trailer teams to a straight 85 cents per mile for cargo vans. Compare that $1.65 to average base mileage rates in the truckload world of 90 cents to $1 a mile, and you get a good sense of the boosted earning potential with solid miles.
As with any area of trucking, deadhead policy has a major impact on pay. "We might deadhead 1,000 miles for a 300-mile load," says Linda Caffee. "You look at the miles and the total revenue, and you make a business decision on that. Can you make money on that load?"
The good news is that for owner-operators on mileage pay, dispatched miles – deadhead included – typically are paid at the same rate as loaded miles. Though wait times between loads can be long, this is a chief attraction for many expediters.
"We're travel agents for our drivers," Pike says. "When I first started here, I got an e-mail over a Memorial Day weekend from a driver laid over in New Mexico. I'm thinking we're going to get lambasted, but he said, 'Our load cancelled on Thursday. Here are our pictures from the National Park.' "
Find more recent reports about expediting and expediters via Todd Dills' Channel 19 blog: OverdriveOnline.com/Channel19:
Hauling expedited — in a Nissan?
Expediting: Singing the praises with Don Lanier
Pride & Polish: Business class?
Expediter pays witness to slim Obama victory