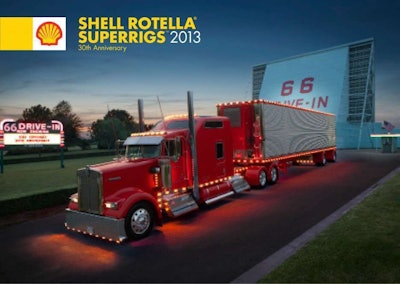 In announcing that its 2013 Shell Rotella SuperRigs calendar is available for purchase, the oil maker says it is giving away calendars through Nov. 30 with the purchase of 10 gallons of Shell Rotella T Triple Protection, Rotella T5 Semi-Synthetic oil or the company's T6 Full Synthetic during an oil change at any participating location.
Click here to see a list of participating vendors or to buy a 2013 calendar.
This year marked the 30th anniversary of the SuperRigs show, and it was held in Joplin, Mo., as a fundraising effort for the city after it was hit by a tornado in May 2011.
Click here to see Overdrive's coverage in May of the trucks that will be featured.