I've mentioned before that my Mother is a saint. She is the epitome of a fine Southern woman. Rarely is there a hair out of place, her manners are impeccable, nails are always done and she usually has on a business suit or church clothes. She is often likened to the television chef, Paula Dean, except her Southern accent is much more refined and she doesn't stretch y'all out into a three-syllable word. She's also a better cook, but don't tell Food Network, because they'll steal her from us.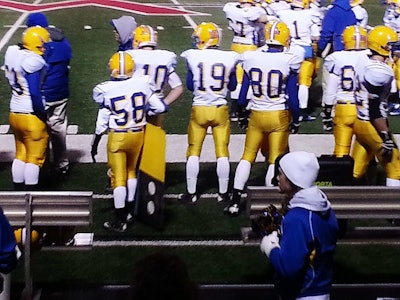 All of her proper upbringing is completely forgotten when she's sitting in the stands at a football game. There is no decorum, she will scream until her eyes pop out and stomp the stands so loud it sounds like a herd of water buffalo are bearing down on you. I have it on good authority that every ref in the local high school league is terrified of her, and special prayers for personal safety are whispered when she's seen in the crowd.
We are a rabid football family. I grew up either being a cheerleader or watching my brother play. When our son and nephew were born, we bought them footballs instead of teething rings. Our boy played pee-wee league for five years, George coached and we spent every Saturday during the season at the field working and watching games. Now that our nephew is in high school, he plays varsity, and when we're home we travel all over the state to see him play. We love football.
This past Friday, Mother and I went to watch my nephew's team in the playoffs for the state championship. We traveled to Wapakoneta, Ohio (along with most of the population of the tiny town Maria Stein, which is home of the Marion Local Flyers), to watch our boys put a whoopin' on the other team. The game went into triple overtime, I nearly had a damn stroke, but they won, and next they play for the state championship.
There is absolutely nothing in the world like being at a high school football game in rural Ohio on a frigid Friday night. I could do it a thousand times (and probably have) and still be completely humbled by the devotion of the fans. I'm always proud to be an American, but standing in a crowd of farmers who sing along when the National Anthem is played brings me to tears every single time.
If I could think of one thing on this Earth that defines being an American, it's watching big, burly men in Carhartts and work boots take their hats off and belt out the Star Spangled Banner with hands over their hearts. Half of them don't even have kids on the team, they just show up to support the hometown boys. People make room in the stands for one another, share blankets and help each other up and down the stairs. You're liable to get a cup of hot chocolate from a perfect stranger, and you're not afraid to drink it. I always leave feeling honored to have been allowed to spend time with such a fine group of people.
Tomorrow, the Flyers play for the State title. My nephew, Blake Benton, will be wearing his grandfather and father's number 19 and representing our family in a tradition we adore. I am forever grateful for the opportunity to watch this young man, as I am grateful to have been born in a country where we are allowed the freedom to do so. God bless America.