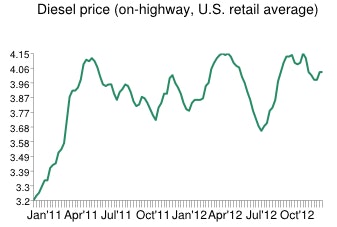 After a brief interruption last week to the downward trend diesel prices had been experiencing in recent weeks, the national average diesel price has nearly stagnated, dropping just seven-tenths of a cent to $4.027 a gallon during the week ended Dec. 3, according to the Department of Energy.
The price is still 9.6 cents above the same week in 2011.
For regional trends and other information, see Overdrive sister site CCJ's report.