I'll still give a strong nod to Overdrive's own (and of course it ought to be excluded from my own personal running given my strong bias in this case), but this shot, taken by Tom Schoening, head editor for the yearly work-truck calendar from the folks at Sioux City Peterbilt, might take the cake: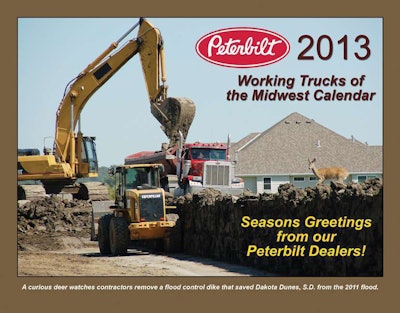 "Late in the summer of 2011, I went to Dakota Dunes, S.D., to snap photos of the trucks removing the flood control dikes," Schoening said. That year's record Missouri River flood had finally receded and contractors were removing the earthen berms that had protected the residential community from floodwaters. After a tour guide led him past the National Guard security checkpoint, Schoening watched huge roaring machines dumping dirt into a long line of dump trucks.
Suddenly, a young deer walked up to the top of the dike. The formerly round dirt mound, which had once been an easy ramp, had been sheared into a 10 foot drop-off. The doe was obviously confused by the sudden change in terrain.
"I ran to a position so I could capture the doe in the foreground and the equipment operators in the distance," Schoening said. "I snapped several shots before the deer turned around and dashed back into the brush."
As with prior years, the Sioux City Truck Sales Peterbilt calendar's pages show a mix of shots of new truck and those of older vintage. New models include a wide-cab new Model 587, several shots of an Extended Daycab, a brawny ag sprayer and a tanker rig reflecting its custom lights. Classic Petes still running strong include a 1967 351-A, 359 and 379.
Find out how you can get a copy via Sioux City's page here.
Follow these links for other calendars
Western Star calendar available
2013 Freightliner calendar available
SuperRigs 2013 calendar: Familiar face in an unfamiliar place
2013 Kenworth calendar available