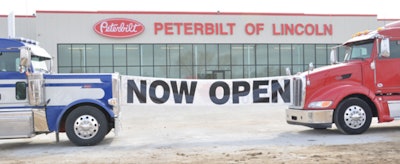 Tom Schoening of the Midwest Peterbilt Group — which also operates dealerships in Norfolk, Neb., and Council Bluffs, Sioux City and Des Moines in Iowa — sent along notification of the opening of the group's fifth full-service dealer/service location. It's in Lincoln, Neb., along Interstate 80.
Formerly a parts store, the new Peterbilt of Lincoln relocated to the I-80 frontage road near Exit 405 (N. 56th Street/US-77) from a now-closed location at 5900 N. 58th.
The new 38,875-square-foot facility at 6262 Arbor Road features a truck service center with 16 bays, a large retail parts store, warehouse and offices. The building also has a 9,672-square-foot second level with a customer lounge, showers, laundry and additional parts storage. A free-standing warehouse on-site offers additional space for storage of truck parts for all makes.
Other amenities include an extended inspection bay, quick-lube bay and CNG/LNG natural gas service bay – all can accommodate a highway tractor and attached trailer. The 9-acre facility includes acres of paved big-rig parking. The facility features energy-efficient systems and air conditioning throughout for employee/customer comfort.
Ron Showers continues as parts manager from the prior location, and Andrew Duff is the new Service Manager. The phone number to the old store remains the same: 402-858-8400 or 877-499-7383.
You may well recall the Midwest Peterbilt Group from my coverage of Schoening's past customer calendars, among other things. The dealerships are owned by Sioux City, Iowa-based SCTS, Inc.. Read more about them at this link, and follow the links below for past coverage of their excellent truck calendars: