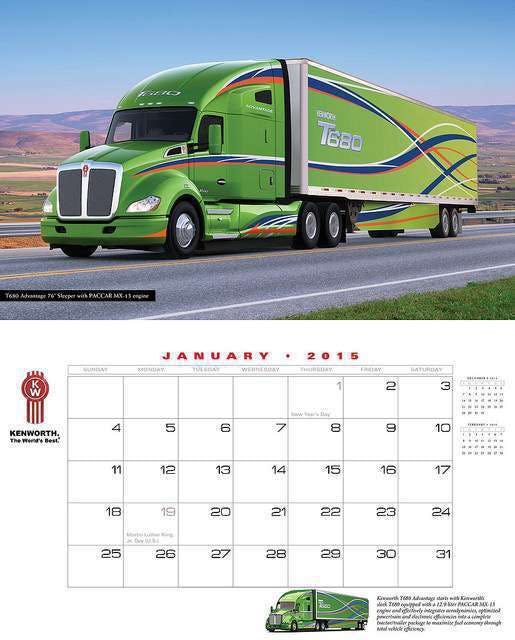 Truck-company calendars are an annual tradition, marked by anticipation of the new Shell Rotella SuperRigs annual calendar and its featured working show rigs. While I haven't seen anything yet about the 2015 Rotella calendar, a couple new ones crossed the desk this week, including the Kenworth Wall and Appointment (pictured) calendars available via ShopKenworth.com site.
The poster-size wall calendar measures 26.25 inches tall by 28 wide. The appointment calendar is 9.75 tall by 13 wide.
What might be my favorite among all the truck calendars, the SuperRigs calendar notwithstanding, features the photographic work of Tom Schoening over at the Sioux City Truck Sales network of Midwest Peterbilt dealers, with locations also in Des Moines and Council Bluffs, Iowa and Lincoln and Norfolk, Neb.
The group's "Peterbilt Working Trucks of the Midwest" calendars are available in full-size and and stick-on dashboard versions at their five stores.
Here's the cover, a shot of a couple of great old needlenose Petes shown at the Sioux City Truck Sales 60th anniversary celebration this past April: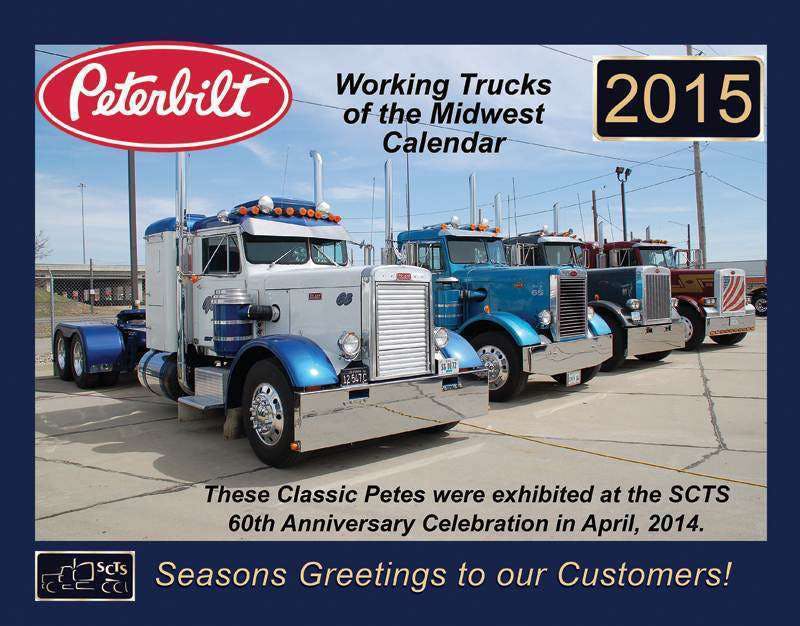 While it's a great shot, I still don't think Schoening's topped his cover from 2013. Read more about that one here.
All the same, the group's approach to the calendar, showcasing a variety of customers' rigs upfitted for their particular vocation or complete hauling freight with the trailer, by and large, allows for a nice dynamic in the calendar that I look forward to seeing every year. You can run through all the images from it in the gallery below.
Find more about the 2015 calendar at this link.
And as Schoening added in an email to me earlier this week: "If you're feeling nostalgic, you can also view the previous five years of calendar trucks on our website." Here's the link to those — a great collection, all told.