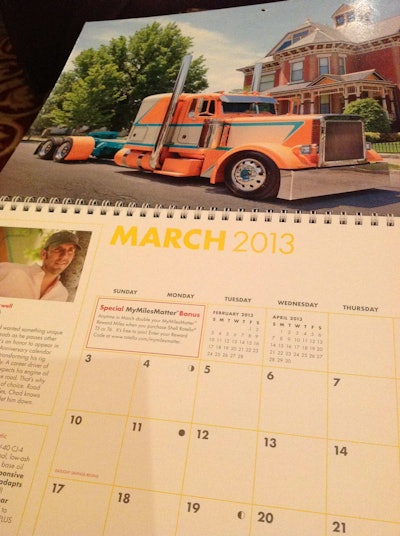 I got my hands on a Shell Rotella SuperRigs 2013 calendar yesterday here at the BillBoard Touring Conference and Awards in New York City — Rotella's exhibiting at the event, for the live music industry (Rotella's involved customers are private coach operations, but also tractor-trailer support rigs and their owners/drivers). The company will tonight be presenting the sponsored "Road Warrior Award" to the top touring companies as part of their "Hard Working" campaign to help shed light on their diverse transportation customers' segments. It's an unfamiliar event for me, for sure, but I managed to find a familiar face right there on the March page in the calendar (pictured). I can't say the same about the truck.
Virginia-based owner-operator Chad Blackwell, hauling cattle, we featured in this spread in the second issue of Custom Rigs magazine (which has of course been brought back into the Overdrive fold directly in recent times — find ongoing custom-truck coverage here). I haven't been able to catch up with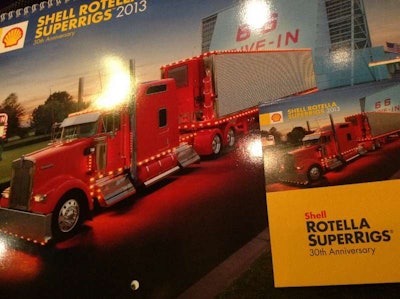 him directly, but it looks like his 2007 Peterbilt in the calendar is likely the self-same rig we featured then, which had a striking all-teal paint job at the time. If it's the same rig, he's made other changes. Take a look at the calendar picture and those below and see what you can find (different visor, for sure).
The touring awards marks the first public event showing of the new calendar (cover pictured at right), produced on the heels of Rotella's big SuperRigs 30th anniversary show in Joplin, Mo., this year — catch a 12-minute vid produced in conjunction with other event sponsors at the bottom of this post. It details the efforts attendees and sponsors have made to provide relief to the city of Joplin following the May 2011 tornado, which destroyed the SpeedCo location where SuperRigs would ultimately take place after rebuild. Shell "worked with SpeedCo to establish the All Roads Lead to Joplin foundation," says Shell Lubricants' Chris Guerrero, to benefit a local YMCA.
In any case, others among you may have seen the calendar already: It's become available to those who get a Rotella oil change at participating locations, including the SpeedCo network, among others, and it will be available to the general public at the start of December via http://rotella.com.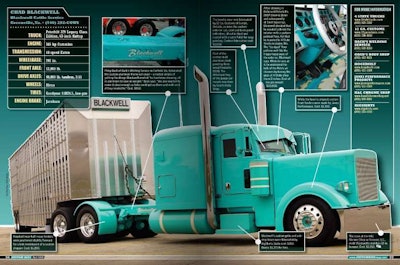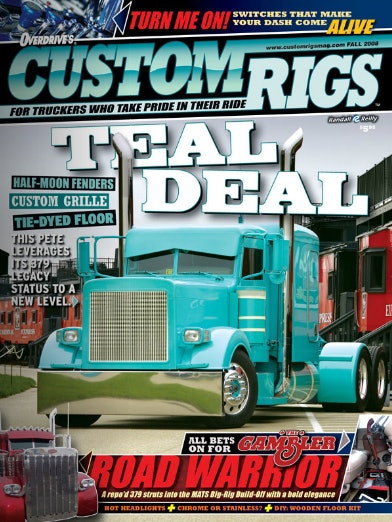 [youtube 8TvQZ-JG69E nolink]