No. 1 fleet concern: CSA


Though the Compliance Safety Accountability carrier safety ranking system didn't place among the top five in Overdrive's polling and subsequent coverage earlier in the year relative to owner-operators' top business challenges, CSA did figure into the top 10 (pictured), coming in just ahead of the parking shortage and the cost of health care/insurance at No. 8. Given the attention CSA has been receiving this year — from FMCSA's continued tweaking of the system to at least two filed lawsuits challenging elemental aspects of the system — it might come as no surprise that it has for the first time placed No. 1 in the American Transportation Research Institute's annual survey of fleet reps on critical trucking issues, released early in October.
CSA overtook the economy, which placed third this year, at No. 1 after economic doldrums' three-year reign atop the list.
No surprise, too, given that the ATRI organization is the research arm of the American Trucking Associations, which has in recent times made a conscious decision to go after inequities in the CSA system. "The ATA decided last spring that they were frustrated that they weren't getting the attention of [FMCSA] and weren't getting the response they wanted," says Steven Bryan of Vigillo, a third-party CSA scoring service that provides fleets the ability to tabulate drivers' inspection violation and crash performance. "They voted to go to Congress and talk about lawsuits," adds Bryan.
Then there's the lawsuit brought by the Owner-Operator Independent Drivers Association alleging FMCSA violations of both the Privacy Act and the Fair Credit Reporting Act and asking for removal of several classes of driver-related information from the database underpinning the CSA system. Bryan believes "that one has a pretty good chance," he says, and many others out there are in agreement with him. One of the main issues there is the lack of an effective agency review process for disputes to information and no effective consideration given to U.S. courts that have thrown out particular violations of law — court dismissal, the suit alleges with four owner-operator plaintiffs' examples, seems to matter not a whit to various violations' inclusion in CSA scoring.
The suit is still in early stages, but you can find more about it here, and another pending case from a consortium of groups and motor carriers here.
Another reason for so much concern from both drivers and carriers is the reality that CSA has bled its way into many aspects of running a trucking business — in very significant ways. Shippers, brokers and other freight sources have put increasing stock in it, for one. And as Bryan notes, in the insurance area, "I'm seeing a lot more questions being asked from the insurance people." Such as, given particular drivers' roadside inspection records: "Will [a particular driver] remain insurable if they continue to drive for you?"
Have any of the independents and small fleets reading this seen liability insurance rates change because of CSA scores?
Stay tuned for more in-depth reporting on the program leading into and beyond the new year.
Eyes open: Search for missing Oklahoma teen goes nationwide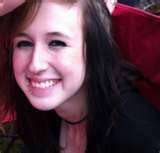 Since I wrote about the case of missing Oklahoma teen Jaray Wilson (pictured), the search for her has officially gone nationwide, various Oklahoma media report. Some officials, as I noted before, fear she may have been sold into a human trafficking ring — keep an eye out for her. You can report any suspicious trafficking activity via Truckers Against Trafficking's national hotline: 888-373-7888. More about the case – and about the TAT organization and human trafficking broadly — here.
Talk about byzantine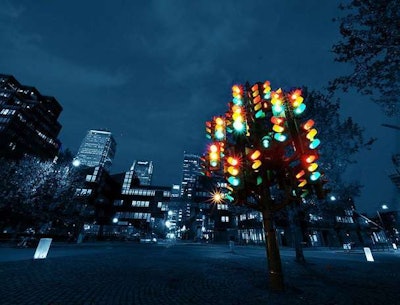 "Imagine running into this" at an intersection, wrote my colleague John Latta – formerly of Truckers News and now over at Better Roads magazine — in an email last week. The traffic signal pictured has a grand total of "75 lit-up signals, all blinking in their own bumptious syncopation, supported by a 28-foot-tall perplexity of iron stalks," wrote John Metcalfe at theatlanticcities.com. But don't worry about the possibility too much: Installed in a roundabout in a business district across the pond in London, it's less traffic control device than artistic statement on the complexity of contemporary life and humanity's relationship to the planet.
Built by French artist Pierre Vivant, wrote Metcalfe, the "Traffic Light Tree," as it's known, stems from a 1998 public-art commission "to replace a plane tree that was, incredibly, 'choking to death as a result of pollution.'"
Furthermore, if John Trinkaus' work is any indication, were it in fact intended for traffic control, it'd probably just be ignored, anyway.