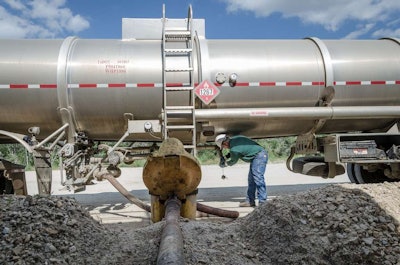 The Texas oil and gas field boom of the last few years has also been a boom for much of the state's economy, and that includes the Rush Truck Centers facility in San Antonio.
Halliburton, Schlumberger and other major oil field service companies have moved in for a piece of the action, said Fred Scott, service manager for Rush at San Antonio. Smaller ones have, too, such as Cain's Lake Truck Lines, which relocated from Houston to San Antonio and expanded from 11 trucks to 67.
Oil field activity is spread over an area roughly 200 to 300 miles long and wide, Scott said, and some wells are as close as 20 miles to his dealership. The 24/7 field work has created a huge demand for trucks and repair work. During a media tour of the San Antonio dealership service bays, about half of the trucks were oil field-related.
Because drivers in the niche are in big demand, many earn $80,000 to $100,000 a year, Scott said.
W.M. "Rusty" Rush, CEO and president of Rush Enterprises, hopes that his company's relationships with oil and gas customers will prove beneficial as it closes its purchase of a group of eight Ohio dealerships with International and other brand franchises. Ohio sits over the Utica Shale formation, one of the nation's hot areas for oil and gas development.
If service companies have had a good experience with Rush's sales and service in Texas, he reasons, "You might want to do some business with me up there."