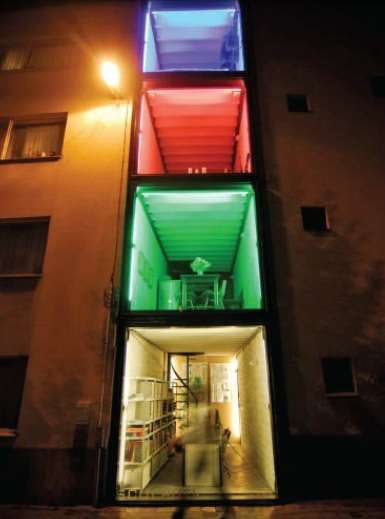 After James Jaillet's Overdrive Extra blog post referencing shipping containers' utility as somewhat inexpensive building materials, Overdrive readers on Facebook added some ideas of their own, several noting that they house their home shop in one today. Travis Burns noted he "used them for bunkers in the army" and has had as many as "three of them for storage. Sold two, still have one. You can weld shelves in them, hooks on the walls. Really handy."
"They make excellent storage," wrote Tom Puckett, and "with some mods, a fair workshop," though he did caution that they can be hard to get rid of. "
Janell Heath liked the idea of putting several together to make a dwelling. "Put them together in different directions for many rooms," she said. "It could be like one for the kitchen, bedrooms, game room, etc."
Best thing about such modular design? "You could always add on…"
Find various other ideas for usage below:
Bruce Chojnacki: Would make a great storm shelter. Just put two-three in the ground, vent it for air and store cots, water and some food.
Zak Schrenker: Totally a good garage/workshop idea. Don't have to worry about it catching on fire when welding, and weather isn't going to collapse or penetrate it.
John Benning: I keep my shop equipment in a 20-foot one!
Andrea Sitler:  Two in my yard are used for storage.
Don Lanier: Ive converted many a container to sheds, and even underground storage. They are perfect for underground tornado shelters.
Al Kohl: I know of two people who have bought them. One is using his for a wine cellar and the other made a evacuation bunker out of his pair.
Libby Kerans Clayton: Set two down with 24-25 feet in between. [Put a] roof from one to the other, and you have a two-car carport with storage on both sides. I thought I might put a couple pups in the back pasture and do that with them next time the company I drive for sells some old pups.
Lazarus Nunley: A business is East St. Louis burned to the ground. They rebuilt it using shipping containers. No lie.