We were down in the bayous of Louisiana, getting pretty close to Baton Rouge. It was time to eat and George wanted to show me a little place he found tucked away on the side of I-10. He had told me about it before, and I was looking forward to the food he raved about.
There was no doubt we were deep in Tiger country — there were purple and gold gee-gaws everywhere we looked. The dining room had LSU tablecloths, and game memorabilia was plastered on every surface. The only other patrons in the small room were four old men, and two of them had on LSU jackets.
I noticed a distinct chill in the air when I walked in. The waitress greeted my husband warmly and completely ignored me. The old men stared at me (and not in a nice way, if there is one) and the one and only clerk at the counter absolutely gawked. I felt immediately uncomfortable, and wondered if I had a booger hanging out of my nose.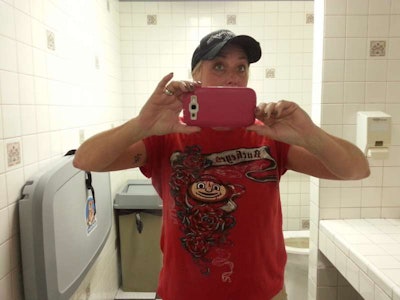 We sat down, and after being snubbed by the waitress again, I decided to go into the bathroom to see if I actually did have a booger. I looked and looked, but couldn't find any offending nose offerings. While I was bent over the sink washing my hands, it hit me. I looked into the mirror and staring back at me, bigger than life and all over my chest, was Brutus Buckeye, mascot for the Ohio State Buckeyes, pumping his fist in the air like there was no tomorrow. The only thing on this earth that would have been more offending to a room full of LSU fans is a giant "ROLL TIDE" sticker across my butt. I did not want to leave the bathroom, but I knew I was going to have to eventually.
After I composed myself enough to walk out, I hunkered past the old men and slid into my seat.
"I have on an Ohio State t-shirt!"
This was not a revelation to George, and he didn't seem to notice the freeze the waitress had put on me.
"Uh, yeah. It's the same shirt you had on when we got here."
"It's the same shirt that's gonna get my ass killed and thrown into the swamp. We're in LSU country!"
The waitress sauntered over again, holding a machete behind her back. (OK, she wasn't holding a machete, but I was feeling very much like she was.) She took George's order and turned to me.
"You know you'd do good to take that shirt off."
"Ma'am, if I take this shirt off, I'll scare the children."
She laughed and took my order. We had broken the ice and she was going to be a good sport about the fact that the Buckeyes rock a thousand times more than the Tigers. Or maybe she had just decided to allow me to live another day. She walked away, and I wondered just how much spit my food was going to have in it. I had almost gotten lost in my own mind again (which takes me about 4.4 seconds) when I heard one of the old men loudly clear his throat.
"Par-don miss, but I don't see no young ones in here. Mayhap you scare an old fella, yeah?"
I'm not sure because I'm not fluent in backwoods bayou-speak, but I think the guy was trying to get me to take my shirt off for reasons other than hating the Buckeyes. I turned 900 shades of red, and all four of the gentlemen had a good long laugh while I ate my spit sandwich.
The moral of the story is: Check the where before you wear. And don't talk about taking off your shirt in public. I know, and you're welcome.