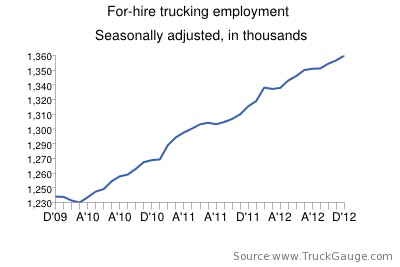 For-hire trucking companies have added more than 128,000 jobs since the bottom of the recent employment scale in March 2010 and are slowly chugging toward pre-recession levels of January 2007 — the pre-recession peak.
The December employment report released this week by the Bureau of Labor Statistics shows trucking added 4,200 jobs to bring the total number of trucking jobs to 1.3625 million — a 3.4 percent gain from December 2011.
For the full story on the employment report, see Overdrive sister site CCJ's article.