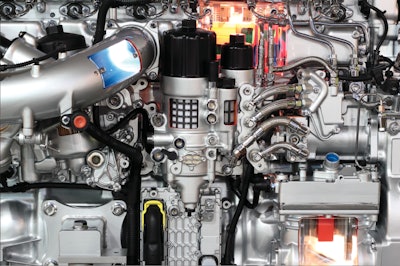 When considering a change in engine displacement, it's wise to review your current engine's operational history, says Mack Trucks' Dave McKenna. The ECM is a good place to start: Its data tells a lot about how the engine is performing relative to the work required and if there's too much or not enough power on hand.
Part 1 of this series covers 13-liter engines and their rise to popularity. Read it here. Part 2 covers 15-liter engines and their recent advances in fuel economy. Click here to read it.
"It can tell you if there's extremely high demand for power at very low vehicle speeds," McKenna says. "Likewise, you can learn if there's lower power demand at higher vehicle speeds."
Despite the 13-liter's reputation for fuel economy, Rumsey is adamant that modern larger-displacement engines can compete in the fuel economy arena with their smaller siblings. "For equivalent ratings, a higher-displacement engine has more flexibility, allowing it to achieve greater fuel economy," she says.
Bore and stroke optimization, valve size and turbo efficiency are all components of optimizing fuel economy.
"At the same time, horsepower and torque offerings typically increase with engine displacement because the mechanical limits of an engine are reached as power density increases," says Rumsey. "A higher-displacement engine provides the flexibility for optimal gearing, allowing the engine to operate at lower engine speeds at cruise – which also translates into good fuel economy."