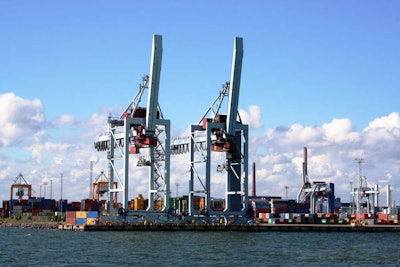 Toll Group drivers serving Los Angeles and Long Beach ports have become the first truckers to reach a collective bargaining agreement in decades.
Sixty-five company drivers for the Australian logistic giant began the year with a contract providing a $6 per hour wage hike, resulting in an hourly rate of $19-19.75. Other benefits include paid overtime, pension, cheaper health care costs and guaranteed shift hours.
Toll Group operates on both U.S. coasts and handles accounts for apparel sold at big box and department retailers. The drivers unanimously ratified the contract Dec. 30 after voting 46-15 to align with the Teamsters last April.
The Teamsters have focused unionizing efforts in trucking on port drivers over the past decade. They charge that many carriers serving ports have misclassified owner-operators as independent contractors instead of employees.
In recent years, state and federal governments increasingly have targeted companies misclassifying employees as independent contractors.
Following the U.S. Department of Labor's launch of its Misclassification Initiative, the department signed a Memorandum of Understanding with the Internal Revenue Service. Since then, the DOL has signed a dozen MOU with states regarding the issue, including California, which entered the agreement last February.