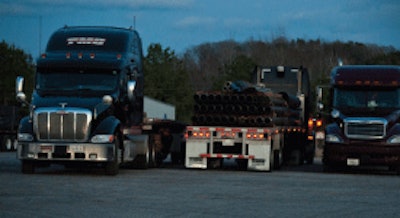 The U.S. Department of Energy has asked that its hazmat drivers be exempted from the hours-of-service 30-minute rest break provision.
The Federal Motor Carrier Safety Administration published the DOE's application for exemption Jan. 14.The department wants DOE transportation of security-sensitive radioactive materials to be treated similarly to transporting explosives.
The exempted drivers would use 30 minutes or more of attendance time to meet HOS rest break requirements, providing they do not work during the break. These DOE shipments require a team drivers and the use of a sleeper berth, the department stated.
The DOE asserts granting the exemption would allow team drivers to manage rest periods efficiently and perform mandated shipment security surveillance. The DOE's technical and administrative controls ensure effective use of driver on-duty and rest-break time, it said. These measures include use of the DOE's satellite-based real-time tracking and monitoring for transuranic waste and security-sensitive shipments and requiring electronic on-board recorders on trucks.
FMCSA will accept comments through Feb. 13, which must be identified by Federal Docket Management System No. FMCSA-2012-0370. Comments may be submitted via one of the following ways:
Federal eRulemaking Portal at www.regulations.gov.
Fax at 1-202-493-2251.
Mail to Docket Management Facility, U.S. Department of Transportation, 1200 New Jersey Avenue SE., West Building, GroundFloor, Room W12-140, Washington, DC 20590-0001.