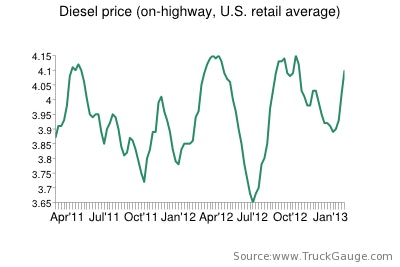 In what appears to be a longer term trend upwards, the price of diesel fuel surged again this week, climbing 8.2 cents to $4.014 for the week ended Feb. 11, according to the U.S. Department of Energy.
The national average diesel price has risen 21 cents in the last month after a slow but steady fall in the three months prior. The price is 16.1 cents higher than the same week in 2012.
The price jumped more than 9 cents in the week ended Feb. 4. Average prices in all regions continued to surge, too, with big jumps coming in the Rocky Mountain Region, though it still hast he nation's lowest average price.
For more on regional trends, see Overdrive sister site CCJ's report. For more historical information, see the DOE's Energy Information Administration's website.