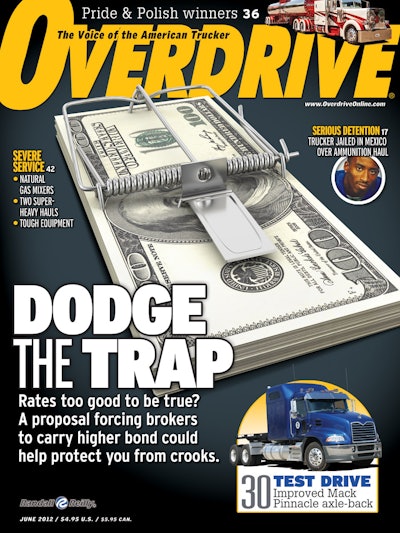 Joining the Association of Independent Property Brokers and Agents in efforts to repeal the increased broker and freight forwarder surety requirements written into last year's MAP-21 highway bill is the National Association for Minority Truckers, the associations said in a joint release issued Monday, Feb. 25. The news came on the heels of the Federal Motor Carrier Safety Administration's recent release of a broker and freight-forwarder FAQ on its website that in effect adopts the MAP-21-mandated deadline of Oct. 1 for compliance with the increased surety requirements. Download a copy of the FAQ here.
"The NAfMT concurs with the AIPBA that the $75,000 freight broker bond will serve as an unreasonable barrier to entry for would-be entrepreneurs," said NAfMT CEO Kevin Reid, "and will prevent our owner-operator members who currently broker out excess freight lawfully under their broker licenses from being able to continue to do so due to the corresponding rising cost of this new financial security."
AIPBA says it is pursuing legislation to repeal the requirement. In the event of such legislation's failure, the association plans court action "challenging the Constitutionality of the new bond," the association said, a measure it feels is anticompetitive in nature and which it believeswill mean business failure for many small brokerages.
Said Reid, "The unintended consequences of this new law in terms of supply and demand will include owner-operators being paid less…, shippers paying more for transportation, and a corresponding increase in consumer prices for all Americans."