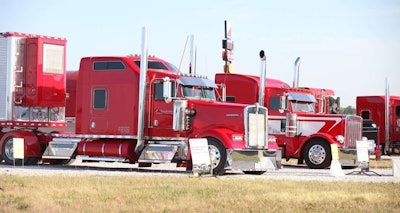 The 31st Shell Rotella SuperRigs competition will be June 20-22 as part of the Budweiser Dairyland Super Nationals in Tomah, Wis. The event, sanctioned by the National Tractor Pullers Association, will feature a number of events for drivers and their families.
Owner-operators with actively working trucks from across the United States and Canada will compete for cash and prizes in excess of $25,000 during the Shell Rotella SuperRigs truck beauty competition. Twelve drivers' trucks will be featured in the 2014 Rotella SuperRigs calendar. SuperRigs entrants will be awarded with a gift package valued at more than $50 while supplies last, as well as MyMilesMatter bonus reward miles.
Judging will be 7:30 a.m. to 5 p.m. on Thursday and Friday, June 20 and 21, and between 8 a.m. and noon on Saturday, June 22. Judging takes about 20 minutes, and contestants do not need to be present to win. The presentation ceremony for the awards will take place at 1:30 p.m. on Saturday. The Budweiser Dairyland Super Nationals will be held starting Thursday night. Two sessions each will be held on Friday and Saturday and the final session will be on Sunday.
Industry professionals who work for major trucking publications and broadcast companies will judge and score the rigs on exterior appearance, design, detail/finish, originality and workmanship. In total, 28 working trucks receive awards for categories such as Best of Show, Tractor, Tractor/Trailer Combination and Classic. The hardest working trucker will be selected based on how hard he/she works in keeping the economy moving.
Three-time NTPA Mini Modified champion puller Larry Koester along with son Adam, the 2007 NTPA Mini Modified champion, will compete in their Shell Rotella-sponsored tractors in Tomah and will be available to meet Shell Rotella SuperRigs attendees. Both pullers will be competing in the first round of the Shell Rotella Cup, which is awarded based on points earned in the NTPA's events in Tomah, Wis., Chapel Hill, Tenn., and Bowling Green, Ohio. Rotella Cup pullers will also be eligible for MyMilesMatter bonus reward miles.
For updates about Shell Rotella SuperRigs, visit Rotella.com and follow Rotella on Facebook at Facebook.com/ShellRotella and on Twitter at Twitter.com/ShellRotella. For information about the Budweiser Dairyland Super Nationals, visit TomahTractorPull.com and the NTPA at NTPApull.com.