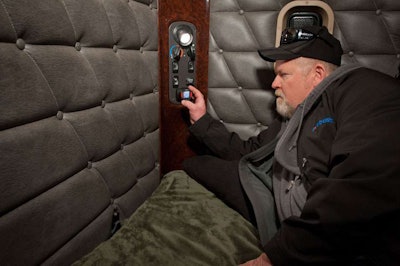 Webasto Thermo & Comfort North America, manufacturer of engine-off vehicle heating equipment, unveiled its new SmarTemp digital bunk thermostat at the Mid-America Trucking Show in Louisville, Ky., on Wednesday, March 20. The SmarTemp Control works with Webasto's Air Top 2000 ST bunk heater and aims to provide fuel savings and lower emissions.
The Webasto SmarTemp Control temperature management system can be dialed to the right for higher temperatures and to the left for lower temperatures.
"We were looking for an intelligent, effective and ergonomically pleasing user interface, and the dial control method just stood out from the other options," said Mark Hickey, vice president of business development for Webasto Thermo & Comfort North America. "The first thing you notice about the device is the dial, and how intuitive and easy it makes the overall unit operation."
The Webasto SmarTemp Control has a large backlit LCD screen that displays the set temperature and the actual temperature. The screen brightens while in use and automatically dims itself when not in use. The dial has tactile feedback with a one-click-to-one-degree ratio that makes adjusting it easy to do in the dark, even without looking at the screen.
The heat or ventilation mode, one of three languages and Fahrenheit or Celsius temperature scales are options available through the main menu. Other options include continuous or timed temperature control, low-voltage disconnect thresholds, password protection and preventive maintenance reminders.
Webasto produces more than a million heaters each year for passenger cars, heavy-duty on- and off-road vehicles and watercraft.