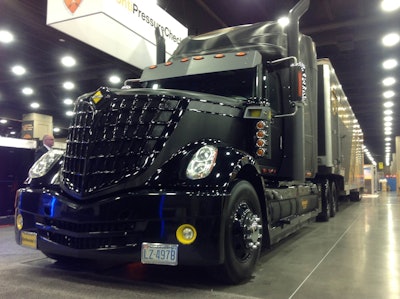 Continental Tire's 2010 International LoneStar got a makeover this past December, says company rep Alex Chmiel, with the Chrome Shop Mafia folks at 4 State Trucks in Joplin, Mo., putting a carbon-fiber wrap on most exterior surfaces, blacking out most of the chrome and adding Continental yellow accents. It was a good time for it, given the company's brand-new road-show trailer showcasing Continental's new- and retread-tire tools for customer owner-operators to manage the entire life cycle of the casings.
You can check out their tire-selection tools and costs calculators via their truck-tires website as well as in the trailer at the Mid-America Trucking Show (Booth #18252), starting today and running through March 23 in Louisville, Ky. And if you missed their news from yesterday, follow this link for more about a new tire, pressure monitoring system and more from the company.
Chmiel gives Overdrive readers a video run through the new trailer in the video below as well.
[youtube sqLs5b54ijs&list=UUVb9_pwbvG99tK1apahFyIg&index=1 nolink]