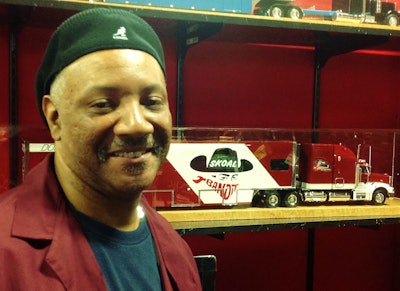 Legendary truck model builder Kuenn McClinton (pictured above) is on a mission to spotlight the soldiers of the trucking industry. At Booth #60085 at the Mid-America Trucking Show, his De-Elegant Model Truck Fleet lifelike truck-scale-model-building business is showcasing something of an expansion that he says will "bring a little fun back into trucking. I want to make the truckers" he deals with "icons, like those I admired" growing up partly in Chicago (where he's based today) and during time spent as a child in Alabama, a story told here in Truckers News.
He's launched the new Elegance on 18 Wheels series with Volume 1 here at the show as a perfect-bound magazine with glossy-reproduced photos of scads of custom trucks and their owners'/drivers' stories. It's available at his booth for $10.99, and McClinton plans to produce six volumes a year (subscriptions are available for $49.99).
He's also offering "hero cards" for a few bucks a piece that feature a single truck with its driver's/owner's story on the back.
Among the scale-model trucks he's featuring at the booth is the Bowling Transportation Breast Cancer Awareness Project 1988 Freightliner pulling doubles all decked out for the theme. The actual truck (picture below) happens to be the first thing you see when you walk from McClinton's booth space out to the show-truck lot behind the West Wing. Go give it a look if you're attending the show. Check out the pictures and vid below if you're not.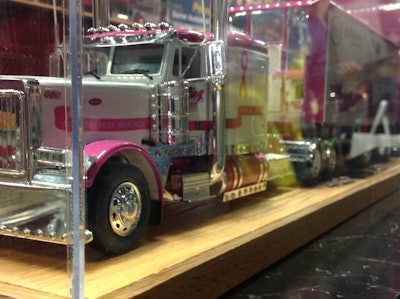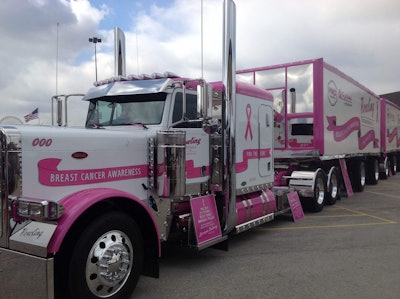 [youtube X4cB8qo3fXo nolink]