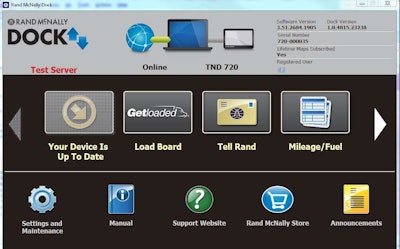 Rand McNally today announced a partnership with the Getloaded online freight matching service to provide an exclusive load board for owners of Rand McNally's IntelliRoute TND truck GPS devices. The new service, available at a 20 percent discount off GetLoaded's $29.99 Trucker Basic package (more for premium packages) for TND users, will enable professional drivers to view available freight and post their truck availability.
In May, the new customized board for Rand McNally will allow the more than 100,000 Rand McNally registered users to access the service via a link on the Rand McNally Dock, the software used by TND owners to update their devices and secure additional services.
All current and new TND owners will be able to take advantage of a 10-day free trial, and thereafter subscribe to unlimited service on GetLoaded.com for the discounted monthly fee. Once a driver activates the account, the service will enable searching for freight available in a particular area, or at a particular destination.
Later this year, the custom site will be enabled directly from Rand McNally's wi-fi-connected TND devices via the Truck Tools menu, meaning drivers will be able to quickly view loads in their area running the unit through a wi-fi hotspot enabled on their phone or hotspot unit or if they're in range of a standard hotspot. When connected to the Internet, users will be able to set up a profile from within their device, and loads will be displayed for that profile on the device. Drivers will be able to view loads available within a selected radius around the vehicle, or at the destination, choose a load, and then allow the device to route to the pickup and drop-off location.
Also new from Rand McNally are its EOBR/fleet management solution's sales at retail locations. The TND 760 at suggested retail of $699 will now be available at TravelCenters of America/Petro locations, and installation services for drivers will be available at select locations. Quick and easy to install, the device includes the Rand McNally GPS navigation system. "We're the first manufacturer to bring an EOBR product to the retail marketplace," said company rep Amy Krouse.
Following the June 2012 launch of its wi-fi-connected IntelliRoute TND 720 unit, the company has today introduced its next-generation 5-inch truck GPS, the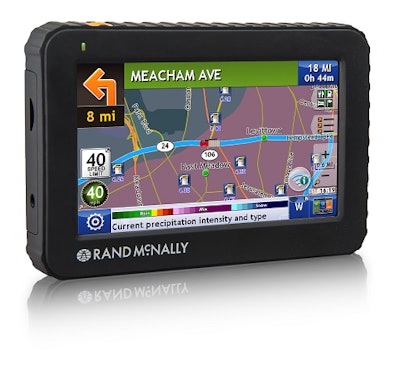 IntelliRoute TND 520 with lifetime maps, a new ruggedized case and wi-fi connectivity, among other features. Premium and standard services enabled on the unit include the "Traffic Everywhere" feature, powered by INRIX, available for purchase for $19.99 a year through the Rand McNally Dock software for updating and backing up the unit. Also: free on-device weather updates, fuel prices via the "gasbuddy.com" service, address-book transfers, fuel-economy tracking and expanded local search options for nearby points of interest. Suggested retail price for the device is $299.99. It will be in truckstops May 1, 2013.
With more than 100,000 drivers utilizing Rand McNally GPS units, the company's market-leading presence has allowed it to take and act on driver feedback with numerous new updates to routing features, among others. MATS attendees can find them at booth #68144. Others, visit their website.