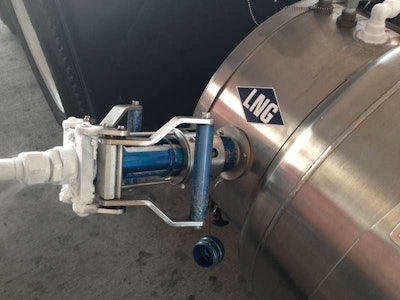 Up to 100 existing TravelCenters of America and Petro Shopping Centers sites will soon be receiving at least two liquified natural gas fueling lanes and LNG storage facilities along U.S. Interstate corridors, per a finalized agreement between Shell and TA, announced Monday.
The LNG stations will be built and opened in phases, and the companies say they expect the first few stations to be operating in about a year. The goal, Shell says, is to produce the country's first coast-to-coast LNG-fueled commercial transportation network.
Demand for alternatives to diesel has seen an uptick in recent years in the commercial vehicle market, as diesel buyers seek lower fuel costs and ability to reduce emissions.
Overdrive sister site CCJ has the full report on the agreement between Shell and TA — Click here to see it.