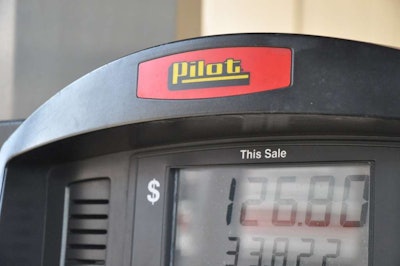 According to a report from Knoxnews.com, one of the internal investigators truck stop chain Pilot Flying J has hired to probe the federal allegations that the company fraudulently withheld fuel rebates from trucking companies apparently has dealt with payment withholdings allegations before.
The report says R. Brad Martin once headed department store chain Saks, and under his leadership, the company faced an investigation from the Securities and Exchange Commission for withholding millions from its clothing suppliers.
Martin was never implicated in the scheme, but the company did settle its claims for $60 million, Knoxnews.com says. Click here to see their report.
Pilot has hired Martin and attorney Reid Weingarten to investigate the fraud accusations internally as part of a five-step plan the company has taken to try to rectify some of the alleged wrongs.
The company's also been sued at least 10 times since the April 18 unsealing of an affidavit that claims the company had engaged in the rebate withholding scheme for nearly a decade.
The latest was filed last week by Alabama-based Shoreline Transportation, who's suing Pilot on grounds of conversion, violation of the Racketeering Influenced and Corrupt Organizations Act, conspiracy to commit racketeering activity, breach of contract, fraud, suppression, treble damages. The carrier is seeking payment of funds owed, punitive damages, costs an attorney's fees.
Like the other suits filed against the company, Shoreline is seeking a jury trial, and also like the others, it relies on the April 18 affidavit for evidence to its claims.
Click here to see the documents filed in the suit.