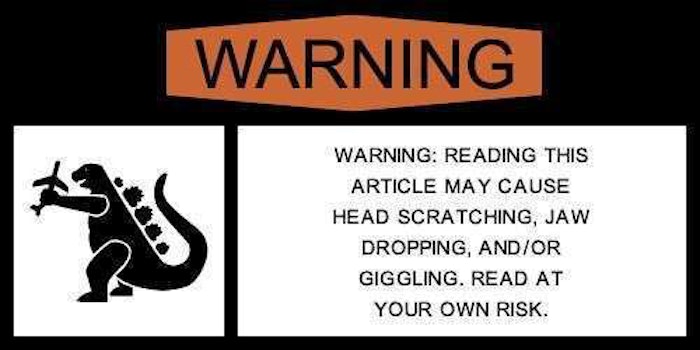 We've all got one. That friend or cousin, or even sibling, you spend about half your time with wondering how they continue to stay above dirt without stupiding themselves to death. The rest of the time, you're on high alert, waiting for them to do something completely irrational and dangerous. They're the ones who put fear in your heart with a statement as simple as, "Hold my beer and hand me that stick."
I have known people who survive solely because the government helps stupid people continue to be stupid. The warning labels they attach to any- and everything are a sure as hell bet the gene pool is getting a little cloudy, and could possibly use a dash of chlorine in the form of neglecting to announce that fire is hot and possibly deadly. I'm sorry, but if cave men could work this out, someone with access to the Internet should certainly be able to discern such shocking information without having to see it printed on a bag of charcoal. Even Frankenstein knew fire was baaaaad.
I was eating a bag of beef jerky the other day and came upon the little silica packet that says DON'T EAT THIS! all over it. Well why the hell would I? It's a piece of paper, amongst a bag full of meat. That would be like eating the oaty pieces of Lucky Charms and leaving the marshmallows. I can't imagine there are people who buy a bag of meat to taste the savory paper packet full of death crystals, but apparently this may be the case.
"Well looky here! Jack Links has started making paper jerky! They musta got a little piece in my meat bag by accident. Here, lemme taste it and see what it's like…"
(I do think it's a little insidious they put something in your bag of meat, actually touching it, that you can't ingest. But that's another story.)
I watched a lady in a rest stop outside of Phoenix try to make an automatic hand dryer come on by sticking a hairpin in every little hole she could find on it. I was fixated and horrified, as the floor was covered with water, and I knew I could possibly be on the receiving end of the gigantic shot of electricity she would get when she found the "right" hole. I composed myself enough to show her how to wave her hand underneath it to make it work, and left the area with a quickness. I probably should have left her there to fry herself to death, because she probably went on to have children who are out there sticking hairpins into various electrical sockets all over the place, endangering those of us smart enough to keep hairpins to use for ear cleaners and lock picks.
WARNING: EXCESSIVE USE OF HAIRPINS MAY BE HAZARDOUS TO YOUR HEALTH. DO NOT INSERT INTO BODILY ORIFICES, MASTER LOCKS, OR, FOR THE LOVE OF GOD, ELECTRICAL OUTLETS. ESPECIALLY WHILE STANDING IN WATER BESIDE SOMEONE NAMED WENDY.