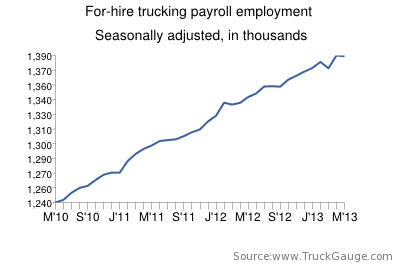 Though payroll employment in the for-hire trucking industry has been mostly steadily been increasing, May bucked the trend, shedding 700 trucking jobs, according to preliminary data released by the Bureau of Labor Statistics.
This reduction, however, followed an upward adjustment of 700 jobs in April to an increase of 12,500 over March. So the 1.3858 million payroll jobs added in May is actually 200 higher than initially reported in April.
Net new payroll jobs throughout the U.S. economy, meanwhile, totaled 175,000 — just slightly ahead of the monthly average over the past 12 months. The national unemployment rate ticked up a tenth of a point to 7.6 percent. All of the job growth came from the service sector as 179,000 new jobs were offset by about 1,000 fewer jobs in goods-producing industries and 3,000 fewer jobs in government. Among goods-producing industries, a 7,000-job increase in construction was offset by a reduction of 8,000 jobs in manufacturing.